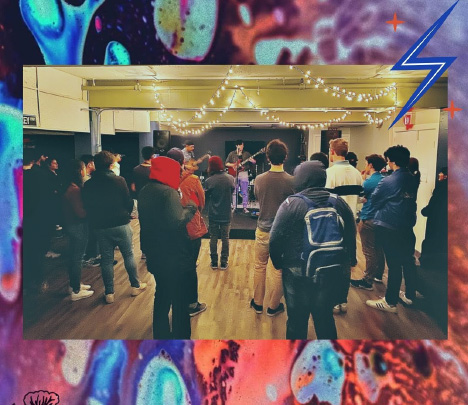 WYO
From the color paint on the door to the cozy furniture inside, the Winnetka Youth Organization (WYO) drop-in center has welcomed teens since it was established in 1969.  After running for more than 50 years, March 2020 and the pandemic forced the organization to shut down  and then to reimagine its offerings and how to offer teens an outlet as the world waits to be vaccinated. 
WYO typically hosts volunteering social service events as well as teen drop-in hours. It has hosted events such as Kids Against Hunger, holiday parties, concerts, game and movie nights, tutoring hours, and many more. 
As all the in-person events had to switch to virtual Zooms, Krysten Warnes, the executive director of WYO, said that the organization has struggled to make the events engaging for teens. 
"I really think it's difficult for teens to have to go to online classes and the last thing they want to do is to Zoom. Our programs give teens the opportunities to get out of the house, socialize, and build up social skills. During the pandemic, it's hard to do that," she said. 
James Pappadis, a 2002 graduate of New Trier and the program director, agrees that virtual events are frustrating for them because in-person interactions are important and all events relied heavily on WYO's facilities. 
"Part of the struggle with Covid is that the WYO is the teens' place. Every event was at the WYO drop-in center. Teens used to come in at any time they wanted. Now we have to have more structure with programs. They have to be at a certain time every day," he said. 
Warnes expressed that the WYO's purpose is to give the teens a space where they can socialize and "feel comfortable in their own skin". 
"I believe the mission of the organization is to give teens the opportunities to branch out, be creative, and be themselves," Warnes said.  "When I was in school, there were cliques and there was judging. WYO represents the space where teens can get away from all of that.". 
Pappadis said WYO is made for teens who need a "place to escape to where they can grow as people."  As a teen living in the district, he realized that he would have benefited from a place like WYO.
"We know that there's a lot going on all the time with school and extracurricular activities," Pappadis said. "WYO is a space where teens can escape from the million things going on each day and just be themselves." 
Warnes shared that part of the struggle with virtual meetings is that it is harder for her to connect with the teens. 
"I'm really big on in-person face to face interactions. I love being able to connect with teens in person. I think it's huge that we can connect with people rather than seeing them on a screen. In-person interactions are a huge help emotionally," she said. 
Pappadis also said that there is a stronger bond of connection between him and the teens when WYO was not closed. 
'Teens could visit WYO anytime. Now with virtual meetings, the connection is still there but it's harder for us all to connect. The teens are doing a lot of zoom already, and they sometimes don't want to come to the programs because of that," he said. 
Junior Wells Meyer shared that she chose to join WYO because she wanted to become "a more active part of the community" and she was interested in the volunteer activities and being able to have her voice heard. 
"WYO has given me so many opportunities that I never would've even known about if I hadn't been a part of the organization, it's also helped me learn new skills and make new friends," she said. 
WYO created Youth Board, a teen leadership group that helps brainstorm ideas for programs and plan events. Senior Vivian Adelman is the president and said that she thinks it's valuable that the organization provides opportunities for teens who want to become leaders. 
" I have had the opportunity to be more involved in the community and learn a lot from everyone on the youth board," she said. 
The events that WYO hosts are not only fun for teens who attend them, but for the directors as well. Warnes siad that right before they had to close in March, WYO hosted an outdoor social distancing event. She enjoyed it as much as the teens did. 
"It felt great to be outside in the fresh air! It felt like any normal day outside, except for the fact we all had sanitizer in our pockets and everyone was wearing a mask. The event was scheduled from 1-2, but everyone was having so much fun, that it went from 1-3:30," she said.
WYO has a variety of events planned for teens, many of which give them opportunities to share their thoughts. 
The Youth Board helped come up with ideas for the variety of events at WYO. One of these events was MLK Day,which Adelman helped organize. 
"Usually, we help out at the MLK Day of Service in the community house. Last year, we organized a few stations for kids to do art projects that helped the community. A lot of kids came and it was really hectic but also a good experience," she said. 
Looking to the future, both the program and the executive directors are hoping to resume in-person activities when the pandemic eases up. 
"Everyone needs social interaction no matter their age. It just helps,"  Warnes said. "Seeing how they were able to open up more and connect made me feel like I was impacting teens in a positive way. It's harder to connect on that level virtually." 
Because it is harder for WYO to have more teens come to their events and to recruit new members for the Youth Board, Pappadis hopes that they can soon be in-person. 
"We always want more teens. Because the more teens we have, the better our programs can be. Moving forward, I hope that we can open up once things get better. Then we can get back to our strategy of expanding the WYO," he said.