A look at New Trier's next supt. Dr. Paul Sally
A look at New Trier's next supt. Dr. Paul Sally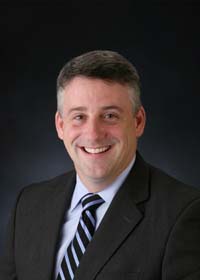 Hang on for a minute...we're trying to find some more stories you might like.
With his glasses perched on the top of his head, his subtle hand motions and his welcoming voice, Dr. Paul Sally looks like a teacher instead of the Associate Superintendent he is.
Makes sense, as Sally was a math teacher at New Trier for ten years before assuming leadership roles; first as math department coordinator in 2004 and then as Assistant Superintendent in 2009 when he was promoted to his current role.
On July 1, Sally will take over for Dr. Linda Yonke who will be retiring after serving 11 years as New Trier's superintendent.
Sally started at New Trier in 1994, working at the institution in various roles for 23 years. His longevity at New Trier will be an asset as he assumes his new role this coming year.
"One strength that Dr. Sally had is he has been a teacher here, a department chair here, and an assistant sup, so he knows the school very well and his passion for the school and for the students is evident," Assistant Superintendent Dr. Timothy Hayes said.
His familiarity with the Trevians is not his only strength. Winnetka campus principal Denise Dubravec described Dr. Sally's ability to bring people together.
"Paul has interesting qualities; he is personable, he is intellectual, he has a tremendous amount of humor and  he is relatable," Dubravec said. "He gets people to want to work with him, not for him.
When asked about his coworker's abilities to lead, Hayes described Sally as a committed  learner; an educator who is committed to improvement to looking to ways that make the educational experience better for students.
"He asks very good question and thinks deeply about ideas," Hayes said. "He has this sort of constant curiosity to learn more, to know more."
Sally's curiosity is seen in discussion on future educational initiatives, and although no radical changes will come with this transfer of leadership, Sally is committed to making the educational experience at New Trier strong, effective and beneficial to current and future students.
"We have done a lot of good work on having our students understand their place in the world, and the place of other people. How do we help prepare student to work with all kinds of different people with different perspectives and backgrounds across oceans and in cultures that may look very different from our own?"
Making student versatile in this ever increasing global world is not Sally's only priority.
He also wants to focus and prioritize student social-emotional health which he sees as a growing concern for New Trier and high schools across the country.
Hayes described Sally's dual approach to education: "Sally has this wonderful balance of understanding the academic and the social-emotional needs of kids and he is able to see how they fit together."
Sally added, "This is all about the students. Certainly the safety and health of our students is our main concern, specifically the growing stress and anxiety our students face."
Sally is adamant in making social-emotional health a pillar in the new strategic plan that he will be creating in alliance with the Board of Education. Dr. Sally described the strategic plan as the "big picture plan."
He explained, "A strategic plan allows an organization to sit back for a moment and make sure that we understand the most important directions that we are going in, and ensuring that those directions are driving our work and our allocation of resources. It can help us bringtogether work that is going on in different areas so that we are all working towards similar objectives."
The last strategic plan was formed in 2005 and is unresponsive to the needs of students today.
"If you look at 2005 when that strategic plan went in place and you just think about the technology students are dealing with now compared to 2005 its completely different," Sally said.
"Students have different needs and the school needs to respond to the them."
Though the strategic plan will be modified, Sally will continue to balance the tradition of excellence while fostering change and educational progress. "Change is a process that involves all constituency," Sally said.
He continued "There are so many important things that New Trier has developed over the years that were put in place by smart people who had good ideas.  When we make change we have to understand why things were put in place and whether those ideas and areas are still important today."
Though maintaining New Trier's academic legacy is a concern for Sally, his main focus is and will always be on the student body.
"My goal, when I start this new position, is to make sure that students know who I am," Sally said.
"I want to make sure they know that I have an open door to listen to students and their concerns."