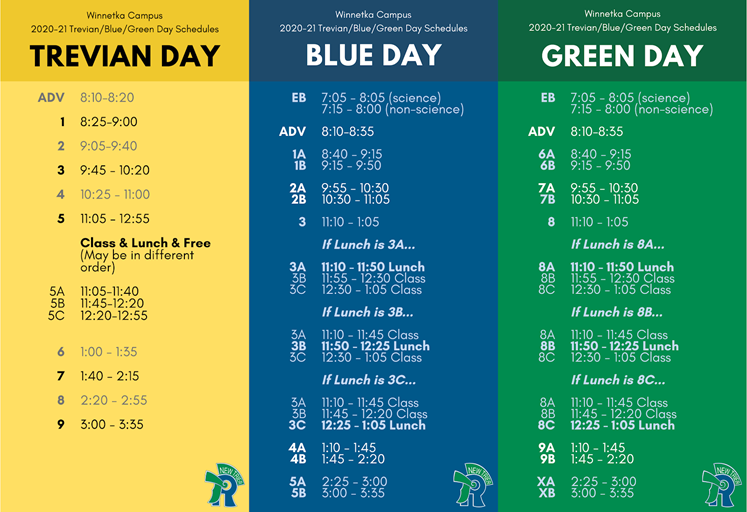 New Trier High School
With New Trier switching to a block schedule for the 2019-2020 school year, many students have found issues with the placement and timing of their classes.
At the start of the year, students reported classes being added and removed from their schedules, large chunks of free time in the middle of their days, and issues fixing schedule errors.
Junior Conner Phillips experienced  problems making schedule changes. He requested these changes last year and said that it took a lot of persuasion to get the class that he wanted.
"They wouldn't let me make a schedule change even though I requested it last spring and they didn't make the change until my mom had to email twice and complain about it being unfair," said Phillips.
Junior Piper Dooley said that conflicts with her schedule have forced her to move up to AP Chinese from level 9 Chinese.
"I couldn't take the Chinese class that I wanted to because it conflicted with IGSS, so now I'm stuck in AP Chinese. It's a lot harder. I had to get a tutor."
Some students have reported double-scheduling of classes during a period and have had to move their schedules around to accommodate both courses. 
A double-scheduling conflict with junior Rachel Rivera's schedule caused her to lose her free period.
"New Trier gave me Anatomy and German during seventh period and so I had to change my schedule and take German 9th ninth period, which was my free period," said Rivera.
Sophomore Riley Kramer had a similar issue to Rivera, although more specifically with the ABC period scheduling during third period. Her student council class meets 3AB and her debate class meets 3AC, meaning that she has two classes scheduled for 3A.
"The people that put classes together decided that debate is more important so I just go to student council for 3B (only Blue Days too). It's a bit annoying as I jump into the class halfway through but I'm trying to just get through it," said Kramer, who opted out of a scheduled lunch. 
Other students, like sophomore Serena Vandergrift, had classes deleted from their schedules. 
Vandergrift said  one of her classes wasn't scheduled, and when the issue was fixed, it caused other  technical issues. She would have had to commute to the Northfield campus because her Latin 1 class was only offered there, which would be second period at Northfield while her first period would be at Winnetka.
"At first they did not place me in [my Latin 1 class] and it was completely absent from my schedule. Then when I got that fixed and they put Latin into my schedule, they didn't sync Powerschool with Canvas properly, meaning that for about a day, my Canvas told me that I was having more than one first period," said Vandergrift.
Vandergrift said that her scheduling issue threw a wrench  in her plans. 
"As a student with ADHD who was trying to be prepared for the upcoming year (which was already going to be difficult as it was), it was an insane amount of trouble at the start of an already difficult school year," she said
Some students are just having trouble adjusting to the different structure of their day. Sophomore Tyler Wang said the amount of unstructured free time during the school day throws him off-balance.
"I understand why I have it but it's weird how I have first period free on Blue Days because you wake up with the intent of starting school and then get seventy minutes after advisery just doing your own thing. The amount of free time and lack of structure in day-to-day schedules is something that throws me off from other years in school," said Wang