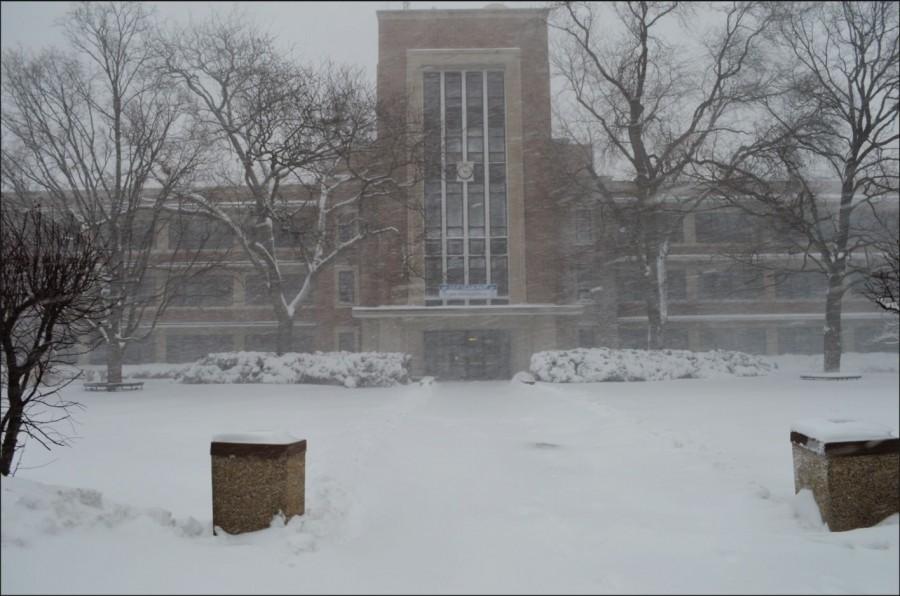 NT News File Photo
The change from full remote to hybrid learning has created new challenges for most teachers, and many find it difficult to teach to two audiences at once. 
Science teacher Jackie Gnant says she has found constantly shifting focus from one group to the other exhausting. But she remains hopeful students are benefitting from live interactions. "It's really, really hard to pay attention to two groups of kids, one of which is squished into my computer screen," she said. "At the same time, it's kind of energizing to have kids in person and have the silly conversations we always took for granted before, like if someone is wearing really cool shoes or has a million colors of pens." 
The change caught many teachers off-guard, including Kinetic Wellness teacher Trish Loftus She has  changed how and what she teaches to fit not just a new block schedule but a hybrid learning model. "I never thought I would be in a position to teach both at the same time. I have adapted but I am looking forward to a normal school day," said Loftus. 
Even when not juggling two sets of students, teachers run into trouble with the limits of what in-person students can do since all interactions, whether among students or between students and teachers, have to be distanced and controlled.
For example, in a normal situation art students would be able to move about their classroom to collaborate with peers and use materials for their projects, but that is not the case in hybrid learning. "It's very difficult to have students who are in class wanting to use the unbelievable facilities that we have here. But needing them to stay localized at one space or station doesn't translate well to an art class," Bowers explained. 
Another common difficulty is dealing with the unpredictability of hybrid learning. Students who are scheduled to attend may decide to stay remote because they have hours between classes. Alphabet-based attendance groups change every two days, but within that, scheduled attendance and actual attendance often don't line up.
"From day to day, things are changing. It's different to teach all remote, and even hybrid is different depending on how many kids are in-person that day," Gnant explained.
Many teachers would rather know who will be in person each day, so they can better prepare for the class. 
"As a teacher, it's really hard to prepare for who may be in my classroom, and then I do take the time to prepare and then they choose not to attend that day without any notification. It's very difficult," Bowers explained.
On Dec.1, the Board of Education voted to move to 50% next semester, evoking both excitement and apprehension. Multiple teachers declined to comment on how much input they had on the board decision. 
A common worry is that in-person learning is increasing too quickly. 
"I'm afraid we all want to return to 'normal' so badly that if we start to do something like get back to school in higher numbers, we're going to slide back into bad habits and therefore not take the precautions we should," said Gnant. 
Bowers acknowledged these bad habits as well, and put the responsibility on the students to be mindful. 
"I think the effort to give students an opportunity to be in school is hopefully returned with an added sense of responsibility from the students to understand that their activities outside of the building could affect others. Everybody has to play a part," said Bowers.
Despite these worries, though, many teachers are excited to teach more students in-person. Gnant said she is excited to see kids face-to-face again.
Social Studies teacher Todd Maxman, who is also part of the committee working on what hybrid could look like next semester, pointed out that the solution to hybrid's current challenges is thinking about which students come in based on how important in-person learning is to each individual student. 
"If we were to talk about what hybrid is, then I think that's a more substantive conversation. And so this idea of hybrid as 25% or 50%, that is what we're talking about right now. But if you're talking about students who are failing, is there a way to define hybrid differently for them?" Maxman said. 
As  hybrid teaching continues to evolve, teachers continue to adapt as well, but are feeling the pressure. 
"I think most teachers feel like we're reinventing teaching every day," Gnant said.