Softball team prepares for upcoming playoffs
Despite a challenging season, the team is hopeful for the future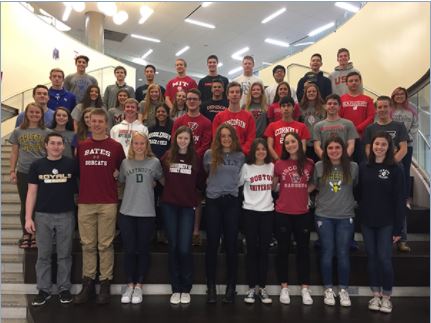 Hang on for a minute...we're trying to find some more stories you might like.
With just a few games left in a challenging regular season, the softball team is gearing up for the playoffs after a sub .500 regular season.
Although their regular season wasn't phenomal, their record didn't reflect the team's talent, according to head coach John Cadwell, because a lot of their losses came against tough competition.
"It's tough because we play a hard schedule and take some on the chin because of it, but I think the players are better because of it," Cadwell said.
The team had some trouble early in the year, but senior Caroline Kelly thinks that the tough schedule has helped the team out in the long run,
"At the beginning of the season we got stumped when other teams would get ahead of us on the scoreboard. However, these final games we have played in the conference we played better than we have all year."
She credited the mindset of the team that allowed them to steadily improve.
"Progressively, we have gotten more aggressive as a team," Kelly added.
Once the regular season ends, the team will go into a long and challenging series of playoff games. There is a semifinal and a final round for the regionals, sectionals, and super sectionals until the teams that have a chance to compete for a state championship are decided.
256 teams enter the regional tournament but only 4 get to go to state. The games are single elimination.
According to Senior Alicia Bagan, the pressure of the playoffs will only help the team play better.
"As a team we thrive in pressure and I can see us getting excited for the playoffs because of the pressure," Bagan said.
Junior Keeley Utz expressed how well the team is playing right now and believes the team will be difficult to beat in the playoffs.
"At the moment we are in a very good spot. As long as we keep up our energy and have the confidence going into the playoffs we are unstoppable."
According to Cadwell, it is important to make adjustments between playoff games both offensively and defensively to have the best chance to win every game possible.
During practices they work on all phases of the game including batting drills, pitching drills, fielding drills, and practicing difficult situations.
According to Cadwell, every practice is different and it is important to work on necessary improvements in all phases of the game.
"We juggle different interests to make sure all of our players get what they need to prepare. There are some days where we have to focus on one area more than another. We adapt based on how we were playing going into that practice," he said.
Beyond the practices between each game, the players rely on each other to boost performance and challenge one another in order to get better.
According to Kelly, it is extremely important to motivate others to work on things that they struggle with rather than reinforce things that they are already good at.
"Everyone naturally wants to practice what they are already good at, but to become a stronger player you need to work on the skills you struggle with." Kelly said.
Cadwell praised how hard the team has worked this season and says that he believes in his team to make the adjustments they need in order to do well for the rest of the season.
"This is a great group of players and they have a great work ethic. I wish we were doing better on the field but this group is motivated to get better and fix those mistakes," Cadwell said.
Bagan said that she is ready for the playoffs because it will be an opportunity to show how hard the team has worked this year and what they can accomplish when they are playing Ibest.
"I'm excited to see how we do in the playoffs because it'll be the test of how much we improved since the start. I can't wait to see us come alive during the playoffs and shock everyone with how great we can be," Bagan said.