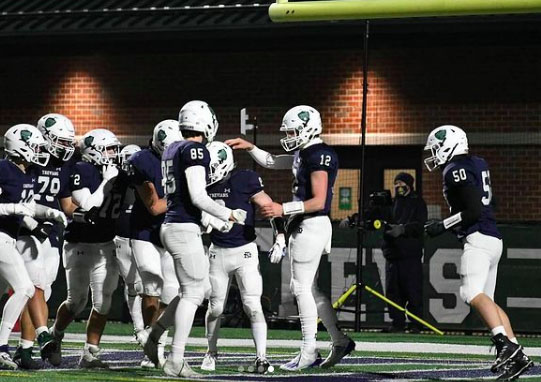 Cremascoli via Instagram
On March 19, New Trier's varsity football team beat Glenbrook South 28-7 in the first home game that the team has played since the fall of 2019. 
Head coach Brian Doll,  was pleased with the team's performance.
"We came out and were successful in pretty much every aspect of the game," said Doll.  "It was fun to watch everybody out there with smiles, enjoying themselves, and just playing football again. It was a big win for everyone."
Junior starting quarterback Nevan Cremascoli felt the win was validating for the team.
"It felt how we wanted it to feel," said Cremascoli. "We've put in a lot of work to be  successful this year and it was nice to show that off."
 Senior running back Brody Roth thought the team was prepared heading into their first  game. 
"We've had months and months to prepare and it's been the focus for everyone," said Roth. "The only thing that's been [on our minds] has been 'Beat GBS.'"
 Cremascoli, who scored three touchdowns, 2 rushing and 1 passing, thought the team was prepared on both offense and defense.
"[This year], we changed up our offense, so they didn't have much film on us and they didn't know what we were going to come out with," said Cremascoli. "Our defense seemed like they knew what [plays] GBS was going to run before they even ran it."
Between the ongoing circumstances associated with the pandemic and playing in the spring, the team had to overcome a lot of uncertainty. Doll acknowledged how different this season has been than previous years.
"There's a lot of new things that we've had to get used to and transition through," said Doll. "Playing in a game on Mar. 19 in a different type of weather than [usual] at the beginning of the season was one of many adjustments that we went through."
Roth said that the weather also has had an impact on the practice environment.
"Everyday is dependent on the weather and whether or not we can get outside. We've had weeks at a time where we've been inside and then other times where we're outside and it's 50 degrees. The biggest thing is consistency, and that's really the toughest part."
Even with all of these challenges, Cremascoli thinks the team has been resilient throughout the process and that it has been positive for them.
"Whatever the circumstances were, we made sure we stayed focused and stayed safe so that we would be able to play a game when the time came," said Cremascoli. "I feel like that lengthy break was almost a blessing for us [because] we got to prepare a little bit more."
Doll has been proud with the way his team has persevered, especially the seniors.
"There's been a resiliency within our team to deal with whatever hand they're dealt," said Doll. "I'm just really impressed with how they've overcome the emotional rollercoaster that they've been through over the last 18 months. We're fortunate enough to now have at least one game and now hoping to play at least five more."