Frank Zawrazky, Staff Reporter
Every election season, new candidates are elected to the officer positions of Girls Club, Tri-ship, and Student Council. We talked with the new presidents of Girls Club an...
March 24, 2020
Hope Talbot, News Editor
On Mar 5th, teachers were encouraged to bring their classes to the McGee Theater to listen to this year's line-up of International Women's Day speakers. This event,...
March 13, 2020
Amelia Jacobson, Features Editor
National Chinese Essay Contest: New Trier students participated in the National Chinese Essay contest on Feb. 7. Senior James McColl and junior Rachel Truong bo...
March 6, 2020

Ski and snowboard club venture into Granite Peak for weekend trip
February 7, 2020

Worm on a string club: The dream that could have been
December 20, 2019

Greenhouse to be constructed in honor of Sofi Troglia
December 13, 2019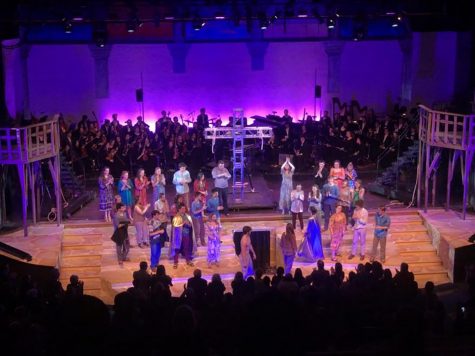 Leah Schmidt, Staff Reporter
"Jesus Christ Superstar" was unlike any production New Trier's theater department has taken on in the past. With more students, a larger stage, and more pressure, the show was bigger, flashier, and more complicated than recent New Trier musicals. Initially, there were concerns about how easily the show could be adapted for a high school stage. Questions arose because "Jesus Christ Superstar" was written for an orchestra much larger than New Trier's Chamber Orchestra, and the majority of the roles in the show are traditionally played by men. "About a year ago, we started talking about whether or not we thought we could do it," David Ladd, the Music and Theatre Department Chair and a director for "Jesus Christ Superstar," recalled. "There were a lot of considerations...
March 13, 2020

Director's Project gives independence
April 22, 2019