Christmas has come early for hip-hop heads
For hip-hop heads across the nation, Christmas has come in March.
2015 has already been off to a great start for fans of rap music, with releases such as Joey Bada$$'s highly anticipated debut album, "B4.DA.$$," in January, Lupe Fiasco's "Tetsuo and Youth," Big Sean's "Dark Sky Paradise," and Drake's "If You're Reading This It's Too Late" just to name a few.
However, March is shaping up to be one of the best months for hip-hop in quite some time with its four major releases. Kendrick Lamar has already released his extremely hyped follow-up to 2012's "good kid, m.A.A.d city" with the release of "To Pimp a Butterfly." Action Bronson will be releasing his debut album "Mr. Wonderful" on Mar 23. Also, according to iTunes, Earl Sweatshirt will be releasing his sophomore album "I Don't Like S**t, I Don't Go Outside" on the same day as "Mr. Wonderful." And finally, Death Grips is releasing its new album "The Powers That B" on March 31.
Easily the most anticipated album out of the four is "To Pimp a Butterfly." Kendrick Lamar changed the game with his 2012 sophomore album "good kid, m.A.A.d city," which is widely regarded as one of the best rap albums of all time.
However, Kendrick has taken a different approach with his third studio album. "To Pimp a Butterfly" doesn't sport any bangers or club hits like "Backseat Freestyle" or "m.A.A.d city," instead opting for a more vulnerable tone. Many of the beats on TPAB are jazzier and overall the album is nothing like "Section.80" (his debut album) or GKMC. Tracks like "u" and "The Blacker The Berry" show some very emotional storytelling from one of the best storytellers in rap.
The album was supposed to be released on Mar 23, but it was surprisingly released on Mar 15 and is now available for listening.
For fans of less mainstream rappers, Mar 23 cannot come soon enough. Action Bronson and Earl Sweatshirt are two rapidly rising stars of rap. If "Mr. Wonderful" is anything like Bronson's previous mixtapes (and from some of the singles he has released from the album, it should be), fans can expect a lot of fun songs with plenty of references to high-class dining, classic cars, and sports.
"I Don't Like S**t, I Don't Go Outside" has gotten little to no promotion, so the release date of Mar 23 is surprising, to say the least. The sophomore album from Earl is looking to continue the success of his debut album "Doris." "Doris" received praise from both critics and fans.
Rounding out this excellent month for hip-hop is "The Powers That B" from Death Grips. This double disc album from the experimental rap duo is set to release on Mar 31. The first disc has already been released for free, but the full album (two discs) is coming out soon. On this album, fans can expect the same chaotic nature that has become a signature of the duo.
Hip-hop fans have plenty to be thankful for this month. New Kendrick, Action Bronson, Earl, and Death Grips could satiate hip-hop heads for a few months, but the fact that all four are coming out in March just adds to a fantastic start for 2015. Add to that new Kanye, A$AP Rocky, Jay Rock, Chance the Rapper and plenty more. On the docket, 2015 could truly be one of the best years for hip-hop.
About the Writer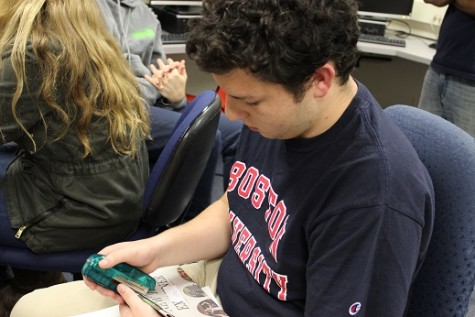 Max Borushek, Features Editor
Max Borushek is the features editor of the New Trier. Besides laying out the features page, Max enjoys long walks on the beach and a nice pair of slacks.