Rickard redesigns the fabric of gender neutral apparel
Simplex redefines… the standard of 'one-size-fits-all'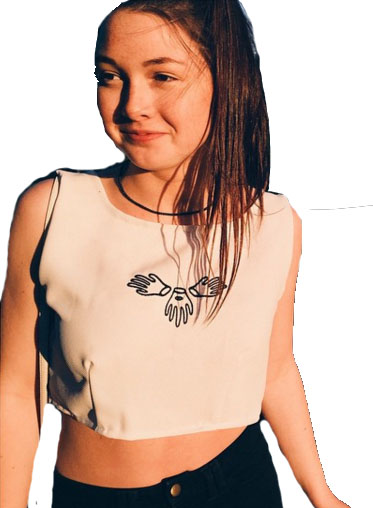 Right now, college students are trying to figure out what they're going to do with their life, what to major in and how to get a job. But here's a high school senior who has already branded herself and gained a following in not just one, but two ways.
The name of her unisex clothing line is called Simplex Apparel. Her Soundcloud handle is Laynaproductions. And her name? Alayna Rickard.
In junior year, Rickard interviewed groups of people in order to get their views on gender stereotypes. Using their responses, she created a line of clothing that she named Simplex Apparel. Her line stemmed from a project she began in IGSS: "Last year, in IGSS, I created an online web store that sold gender neutral clothing."
She cites artist Keith Haring, who used visual art as a tool to spread his voice and message, as her greatest artistic inspiration. "I also love his graphic style, which has inspired me to create textiles and graphics of my own," Rickard said.
Graphics show up in both her textiles and in her own wardrobe. Rickard describes her personal style as being unique. "I don't like wearing the same thing everyone else wears, so I try to find or create my own versions of something I like," Rickard explained.
Because Rickard strives to accommodate her own personal style nuances, she works hard to make others feel more comfortable in their own self-expression, which played a huge role in the creation of her line.
"Growing up as an actor, I was often surrounded by people who were gender non-conforming. For my guy friends, it was normal for them to shop in the opposite gender sections of clothing stores," she said.
To Rickard, clothing is a huge part of self-expression, and thus her mission revolves around creating pieces that don't stay within the constraints of female versus male clothing. "As a society we try to organize [gender] into these two groups, but in reality gender is a spectrum. I wanted to create a brand that fosters a community of people that's based on acceptance instead of competition," Rickard said.
'I don't like wearing the same thing everyone else wears, so I try to find or create my own versions of something I like.'
Since Simplex Apparel's debut, Rickard has added several pieces, including a gender-neutral skort, to the collection. As she continues on this artistic path, Rickard wants to begin incorporating ideas from another passion of hers into her designs and music.
"My goal is to fuse fashion, music and the visual arts into an artistic career. My experience with both definitely influenced my work," Rickard said.
Beyond music and the visual arts, high school has been an important influence on Simplex Apparel's creation. Rickard is part of IGSS, a program which she has fostered her creativity.
"I chose to take IGSS which has allowed me to generate more creative projects for myself. It gives me the freedom to learn about what I'm actually interested in," Rickard said.
The freedom she has experienced through the IGSS program is reflected in the lessons she's learned firsthand through this project. Rickard offers her own advice, saying, "The best advice I can give is to take risks. It is really easy to doubt yourself when making creative work, since you never know how people are going to react. To succeed you have to be brave enough to take the risk and put yourself out there."
To think that Rickard has accomplished so much in such a short amount of time is admirable in itself, but knowing that it all began with a single sewing machine is a true testament to her tenacity: "My mom was worried because I didn't really have a hobby, so she bought me a sewing machine."