High school sweethearts reflect on their 67 years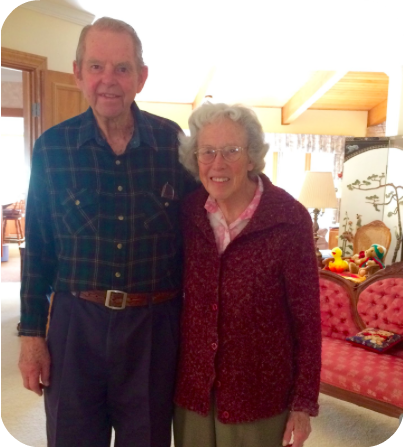 , Staff Reporter
April 1, 2016
It's hard to find a more Nicholas Sparks-esque love story than that of Margaret and Bill Sethness.
In a culture that now reveres instant communication over face-to-face interaction with apps like Snapchat or Tinder, it's hard to come across a couple as picture-perfect as these two.
With changes coming quickly to New Trier, a sense of nostalgia seems to be everywhere, from the tribute given by the cast of Lagniappe, to the pictures lining the halls outside administration offices of the old campus.
The world is a much different place than it was in 1942, during WWII, when Bill and Margaret met in the halls of New Trier.
"In our senior year, we were in a class called Voice and Diction, which was in the high red tower of the old building, before they put the modern thing on there," Bill said. "She was sort of cute and pretty and I was a little rambunctious because I was a cheerleader."
Their story started out as many high school romances do: the outgoing boy spots a pretty girl from across the classroom and she catches his eye. "As we came down from Voice and Diction a few days after it started, I said, 'May I carry your books?' I know, how old fashioned!" 92-year-old Bill still remembers this first time he spoke to his future wife.
Bill took lead on the most of the stories, turning to Margaret every once and a while with a "right honey?" However, their first exchanged words were clear to her, even if the rest was a bit blurry. She interjected into the conversation with her response to Bill's question, "I said, 'What? Excuse me?' How do you respond to something like that?"
Bill and Margaret (who goes by Jeff, a nickname based on her maiden name Jeffreys) graduated from New Trier in 1942. The two started dating during their senior year, when the world was in the midst of the utter turmoil of World War II.
Despite the fact that more than 70 years have gone by, the details of their life together seem to be as vivid as if they met just yesterday.
"So that was the beginning of the big chase," Bill said, who was not discouraged by the rejection.
After graduating in 1942, Bill was drafted into the Navy, and the two split. Upon his return, as if fate knew they were destined to be together, the two coincidentally reconnected.
"We got back together after World War II. I was in my second or third year at Roosevelt College," Bill said. "It was a commuter school, so I took the train. And she was going to secretarial school, which required that she get all dressed up. And this doll appeared in the doorway, and it was this girl I knew who sat down in the chair in front of me."
Even after 67 years of marriage, Jeff blushed and giggled like a schoolgirl when her husband recalled, "This doll got on the train." Her tiny frame sunk into her enormous armchair, and she whispered, "Oh come on."
Bill replied, "That's all I can say, dear," glancing over at Jeff and grinning with pride as he looked at her.
He continued to recount their love story, as if the already adorable tale of how they met wasn't enough. "That summer we had several dates, and one of them, well the one I remember the most, was the first real date. Marguerite and William, my sister and her boyfriend, offered to take us to the movies, to drive to the movies was big deal. So we went. So he picked us up in Winnetka and drove us over to Jeff's house."
It was almost impossible to keep composure when he talked about the moment he saw his date for the evening walk out of her house.
"We got down there and she came out and she was beautiful. She was dressed up in a hat, red fingernails, and jewelry, gosh, to go to the movies. All dressed up, and God I'll never let her forget it. That's when she hooked me."
Bill teared up when asked the secret to the success of his relationship, and he credited its longevity to his mother. "My mother always told me to be tolerant to girls- to realize they were different from me. They have different sensitivities- something you might say in passing could really bother somebody else." Bill snuck a loving stare at his wife when he recounted this, showing his profound love for her, even after all these years.
He described the reunions he attended as ones with much joy and fond memories. "They were all great, but by the 70's we kind of acknowledged that it would be the last one. Everybody kind of ran out of gas, it was nothing like the ones after the war- everyone was so joyous and young, so happy to be alive."
Bill and Jeff have no desire to return to their high school, though they take great pride in the New Trier community. "It's a wonderful school, no question about it. This town is full of young people who are just so nice to us."
Jeff believes it's wholly possible for teenagers of our generation to have a relationship as long and successful as hers. She matter-of-factly said, "Why not? I mean we're so perfect."
Even with our ever-evolving times and the drastic renovations currently going on at New Trier, Bill and Jeff Sethness have proven that some things just never change.