Are trips abroad for students worth the high dollar amount?
The students of New Trier High School are given various opportunities to travel abroad with their peers over the summer for educational and cultural experiences.
This upcoming summer, New Trier is sponsoring trips to Ecuador, China, France, Italy, and, Oxford through the language and English departments. These trips provide students with cultural exposure, but the finances required to go on each trip are a large concern to both parents and students.
Summer study abroad trips are expensive because finances go towards a variety of items. According to the Director of Student Life, Athena Arvanitis, students are paying for their own transportation, lodging, meals, chaperones, excursions, and insurance.
Each individual trip participates in unique activities which impacts the overall cost, as well as the different air fares. For example, Arvanitis shared that Oxford trip participants attend play writing and stage work sessions, both of which add to the end price. According to an informational meeting held on September 30, the approximate cost of the two week Oxford trip is 4,800 dollars per student.
The school itself does not provide any financial aid for students who cannot afford these trips, but Arvanitis says, "Assistance is usually available through the student travel company and sponsors will help the student contact the company, which may offer aid depending on the situation."
Although students aren't given scholarships through New Trier, travel companies are aware of students' various financial situations, and are willing to help all kids have a fair chance to experience these trips.
At the August 26 school board meeting, board member John Meyefski was not as positive about New Trier summer travel abroad when he said, "There is really only select few who can go on these trips. If students participated in fundraisers for the expenses, as other schools have in the past, the possibilities for the students who can't afford trips abroad would increase."
Although private travel companies may provide aid, Meyefski questions New Trier's ability to give each student an equal opportunity. The trips do give specific students a beneficial experience, and as the New Trier Board President, Alan R. Dolinko said, "It is unrealistic to believe that every one of the 4000 students at New Trier would be able to participate in trips to different countries with low expenses."
The expenses are high, but according to Ashley Kahn, an attendee of last years Peru trip, they are worth it. Kahn says, "I made so many close friends, and the trip has both improved my Spanish and thirst for travel." Specifically for the language trips, students are exposed to different cultures which according to Arvanitis, "is very beneficial to a students education."
Arvanitis reveals that around one hundred students attend the trips abroad in total, which means that each individual trip brings around twenty students. Moreover, not all students who apply will be accepted into the programs.
Lizzie Schaff, who was recently accepted for the upcoming Ecuador trip, explained that students are required to fill in packets with information about themselves, provide three recommendations, and participate in an interview with the sponsors. This itself describes the thoroughness sponsors go through in order to take the most qualified students.
Arvanitis shared that not only does the application process include discovering a students skill level, but it also allows students to explain why they are interested and qualified for the trip. This gives students the opportunity to share why the trip would be beneficial for them individually. Khan said, "I explained that I was interested in the trip because I've always loved speaking Spanish and I thought this would be a perfect opportunity to improve my skills and a see a different part of the world, especially because it was my first time out of the country."
About the Writer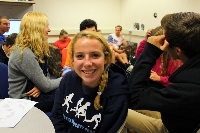 Abby Burton, Opinions Editor
Abby Burton is one of the opinions editors this year. She writes her opinions on all different topics. Whether they are controversial or not, she always...