NUSH allows Students and Teachers to help a family in need
New Trier recently changed the controversial name of Adopt-a-Family to NUSH, which stands for Northwestern University Settlement House, because of the previous misleading title.
The NUSH program allows students and teachers to become involved in a great volunteer opportunity. Advisories from New Trier commit to a family in need and raise money to buy gifts for them, including food and clothing. According to Student Activities Director Stacy Kolack, "Some advisories hold fundraisers, while others collect money from each student in order to go shopping for their family. There are many different techniques that advisories use."
Students and teachers believe that the old program title did not correspond to the service that was being done, but are also in agreement that the new name is unappealing.
Although great service is being accomplished, advisories are not creating relationships with these families as they would if they were adopting them.
A previous participant in the program and advisor, Jessica Malamuth said, "Physically adopting an entire family would require much more work than the service being done."
Junior Kate Wainwright thought that the new name may alter the amount of participation in the program, "The new name makes the organization sound unappealing and I think it will distract volunteers from participating."
All advisors are aware of the program's name change. Kolack explained, "We made sure to inform all of the advisors at an in-service meeting last year of the name change, and NUSH has always been an advisory based program that both Northfield and Winnetka students participate in." This means that the name switch to NUSH should not affect the amount of participation, as the option to get involved still lies in the hands of advisories themselves.
Beyond the uninviting title, some students are not even aware of the new name change. When asked if she had heard of the Adopt-a-Family organization, sophomore Maggie Lake said, "Yes. My advisory has participated in that program." But when asked about NUSH, Lake was unfamiliar with their services, although they are the same program.
Most advisories at New Trier participate in the NUSH program and are given the opportunity to help a less fortunate family. With this, students and advisors bring joy to families who cannot afford to buy presents during the holiday season, but the misleading title still does not match the service that is being performed. Junior Kate Lucenti said, "I think it is good that they changed the name because when I was younger I actually thought that another family would be adopted into ours, and I always got so excited."
Others also thought that the former name, Adopt-a-Family, was a bit degrading. Advisor Michael Christensen said, "The phrase Adopt a family is kind of condescending. It implies that one group is superior to the other. [The program] is helping and nice, but the word adoption does not apply in this situation."
According to NUSH's website, "Our services provide a comprehensive approach to community building and provide our neighbors: Knowledge, opportunities and support to break the long-term cycle of poverty." The website itself still refers to the program as Adopt a Family, but it is not their mission to create superiority roles for the volunteers. Their goal is to establish a strong sense of community, which is created between the volunteers and the families in need.
Kolack said, "We changed the name last year with the service learning committee because Adopt a Family did not express what we thought we were doing. We are partnering with these families to help them through a challenging time in their lives. For the most part, there are different families every year who are in need. Our ultimate goal is to build a bridge in the gap [of communities]."
About the Writer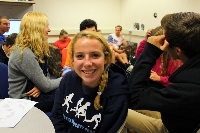 Abby Burton, Opinions Editor
Abby Burton is one of the opinions editors this year. She writes her opinions on all different topics. Whether they are controversial or not, she always...