What is involved in the process of becoming an adviser?
It is rumored that male teachers are more reluctant to take on the role of an adviser than their female counterparts, as suggested by the fact that there are 21 sophomore girl adviseries to 20 boy adviseries.  However, this does not reflect a lack of interest.  In his eight years as Sophomore Boys Adviser Chair, Scott Williams noted, "This is the first time where there's more sophomore female adviser rooms than male adviser rooms." According to Assistant Principal of Student Services Katherine Schindler, there are just more female teachers at New Trier currently.
The lower amount of male teachers at New Trier has been a common theme the past few years. Junior Girls Adviser Chair, Stephanie Gamuaf, said, "Statistically, I think there are more females than males already, so when you're in a profession that tends to be more female dominated, there is obviously going to be more interest in the female side than in the male."
The adviser position is voluntary.  To be considered, teachers must submit a statement declaring their interest; they are picked based on department and class needs.
Many teachers are interested because they can take on a role that allows them to interact with their students in a different way.  The decision of who becomes an adviser is also based on departemental needs.
Advisers should represent a balance of the social studies, science, math, language, and English departments.  If there are too many from one department, then there are not enough teachers to teach all of the classes, especially fifth period, which advisers typically have free.
Math faculty and former boys adviser Alfred Estberg said the training to be an advisor started before the school year. "In August we met as a group, all advisers and adviser chairs. Every week during the school year there are in-service meetings about issues that might [come] up with advisees, and activities you can do with your advisery."
Williams said that the screening process for a teaching position at New Trier is partly based on one's demonstration of qualities such as care and compassion, in order to act in the capacity of an adviser in the future. Every teacher at New Trier has proven to have the skills to be an adviser.  "They are hired under the assumption that they're somebody we could foresee being an adviser," he said.  According to Schindler, "We generally do not have teachers in their first or second year become advisers."
Teachers may not want to become advisers, depending on the outside opportunities that are available to them and the amount of workload that their classes require. Typically, advisers have less time to devote to their subject classes as they must also handle advisery projects, from fundraising during the holidays to helping juniors prepare for the college application process.
Taking on an advisery requires extra time and hard work. According to Lori Willer, a current adviser, "All teachers who are full time teach five classes a day, so when you're an adviser you teach four classes and advisery counts as a class." But exchanging a forty minute class for a twenty minute advisery is not lightening a teacher's load. What is lost in grading papers is taken up with a variety of social, emotional, and scheduling issues that can take up more time than teaching a class.
Adviseries have always been split by gender. Schindler explained that she thinks, "female students may present different obstacles than males, and vice versa."
Gamauf said, "Even between girls advisories there is such autonomy on how advisories run that each adviser provides a unique experience that is more tailored to the students' chemistry, their different personalities, and what the adviser brings to the table." Certain advisees have special situations such as family issues, stress, or even mental disorders, all of which impact the way an advisery is run. Every child brings an important piece to an advisery as a whole, and this combination of students determines the overall tone of the group.
The individualities of advisories allow rare bonds and experiences to be made. According to Gamauf, "I think though the trials and tribulations of daily life, and commiserating and bonding together, it brings you all closer together." Every day, the 25 minute advisery guarantees a time in the student's schedule to get to know each member in their group. Also, partnerships and field trips help create closer relationships within an entire advisery.
Although great relationships are created, it takes time to get comfortable with each other. Specifically for advisers on the Winnetka campus, it is difficult to get to know a new group of students because they are already familiar with each other from freshman year. Willer said, "I would definitely say that the first year logically is the hardest because you don't know them and I am the one that's new." As it would be assumed, the comfortability with a new advisory increases from each year, and the bonds that are made by senior year can be lifelong.
There are some instances where an adviser has to leave halfway or at the end of the year due to personal or medical issues. Schindler said, "When we need a replacement, those are always very thoughtful decisions because it is difficult for a group of students to lose their adviser, and we want to make sure that we are putting someone in place who has experience and can really do a thorough job."
Special education teacher and adviser Susan Paunan said, "Being an adviser is a lot of work, but it is also extremely rewarding, and it is the best way to start my day."
About the Writers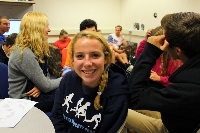 Abby Burton, Opinions Editor
Abby Burton is one of the opinions editors this year. She writes her opinions on all different topics. Whether they are controversial or not, she always...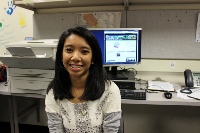 Sarah Wong, Online Editor
Sarah Wong is the Co-Editor in Chief of the Online News. She works with Sam to upload articles, pictures, and other interesting content. She's really...