Miss Mac: iconic teacher, feminist, and football fan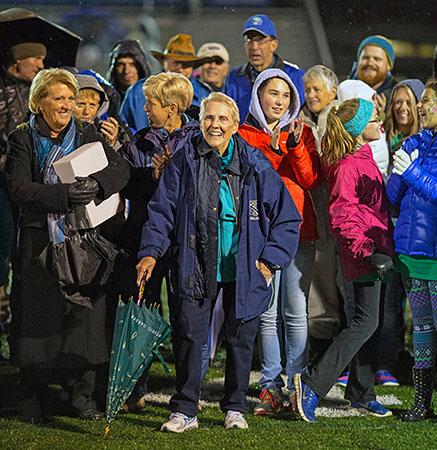 Hang on for a minute...we're trying to find some more stories you might like.
Jane "Miss Mac" McNamara began teaching at New Trier in 1966, and nearly 50 years later, we congratulate her on a successful and illustrious career.  A staple at New Trier athletic events, Miss Mac is more than a fan. She is a coach, a teacher, an athletic administrator, a pioneer of the Title IX legislation, and a role model for students and staff alike. The New Trier community came together for Jane McNamara Night on Sept. 12, honoring her accomplishments at halftime of the football game against Niles North.
"I really admire the dedication she has to New Trier as an institution and to individual kids," said New Trier girls basketball head coach Teri Rodgers. "She takes the time to know them and she is their number one supporter. That type of love is so important and it means so much to all the kids she has touched."
With the emergence of the Title IX legislation in 1973, Miss Mac coached five sports during her time at New Trier, including field hockey, volleyball, softball, basketball, and later track and field. Possibly her most successful achievement as a coach came in 1976, when she led the field hockey team to an IHSA state championship.
"It was women like Miss Mac who really brought girls sports to where they are today," explained Rodgers. "When Miss Mac was coaching [the girls] wore gym uniforms, they played in the back gym, G110 was called the 'girls gym'. It was really through efforts like Miss Mac's that brought girls athletics to the forefront and made them into the great [sports] they are today."  Miss Mac continued to coach and teach at New Trier until her retirement in 1996, but as any New Trier fan knows, she never really left. She's the face of New Trier athletics.  "No matter where we go, she knows everybody and everybody knows her," added Rodgers. '"And if she's not with us, people will ask, 'Where's Janie Mac, where's Miss Mac?' and that just shows her personality."
Miss Mac doesn't miss many New Trier athletic events, however.  "Miss Mac has been to every single one of our games, both home and away," said senior basketball player Kate Conaghan. "She is always the first one there encouraging all of us, and when she gives us tips when we are subbing into the game, we know to listen.  Fellow senior Kate Klein agreed.  "She brings so much positive energy to our team," said Klein. "We can always count on her to scout out the other team during warmups and give us feedback on who's shooting well that day."
This past May, Miss Mac was the recipient of the Friend of Athletics Award, given by Illinois Athletic Directors Association, the highest recognition of service and support given to student-athletes. There was no better way to celebrate her legacy than Jane McNamara Night at the football game against Niles North.  New Trier honored Miss Mac by inscribing a plaque placed on the New Trier memorial wall, a tribute to her commitment and contributions to the school and athletic program.  "I never had a bad day coaching or teaching," McNamara said in an interview with the Winnetka Current. "I just was truly blessed. I tell everybody the New Trier community, the parents, the students are the wind beneath my wings."
The magnitude of her impact on New Trier is immeasurable, but even without her, New Trier will continue the excellence that she brought to the school.  The public address announcement at Jane McNamara Night summed it up best.  "Miss Mac is always welcome at New Trier and I hope we continue to see you on our fields, our courts, and at our concession stands."