An Interview with Triple A
Q&A with New Trier Seniors Dennis, Jonathan, and Todd Anastos and Junior Nathan Garrett
Q: What are each of your roles in the band?
 T.A: I am the keyboard player and lead singer.
D.A: I play the bass guitar, violin, and sing backup vocals here and there.
J.A: I play guitar in the band. I also write songs.
Garrett: I play drums in Triple A and am the mediator in brother-versus- brother fights.
 Q: How and when did Triple A get started?
 D.A: My brothers and I all played instruments growing up…It was only a matter of time before the idea of a band was put out there. In 7th grade, we played our first gig as Triple A.
 J.A: We would play shows [and] lots of local events. In the summer going into 8th grade, we asked Nathan to play drums for us.
 Q: How would you characterize your songwriting and collaboration process?
 Garrett: We're in the works of writing and recording in a studio. Usually when writing music, someone will have a riff or piano part they have been playing around with, and we'll all jam on it for a while.
 Q: What is the band's favorite original song to play?
T.A: We like performing an original entitled Back To Stay. We've performed it many times, and we've received great [responses]. We're still working on fine-tuning a recording of it, but stay tuned.
 Q: You recently played at the House of Blues in Chicago. How did that happen for you?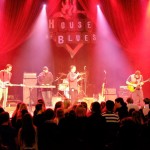 D.A: Like most "breaks," [it] happened with a little bit of luck and good timing.
J.A: We played an event at The Alley in Highwood and soon afterwards, we were referred to a local music music promoter. They needed a band to play at the House of Blues, and we would never pass up the opportunity to play at such a cool venue.
 Q: What is your favorite part about performing?
 D.A: My favorite part about performing is the freedom you get from it. You can be anyone you want to be on stage.
 Garrett: It's just fun doing what we like to do and entertaining people. I also love Jonathan's ridiculous guitar solos. They make me laugh for some reason.
 J.A: My favorite part is putting a smile on the listeners' faces.
 Q: Most of the band members are high school seniors. What will Triple A look like in the next year or so?
 D.A: Next year will definitely be a challenge for us. However, we're looking to do a lot in terms of the band [this summer]. We're working on recording an EP and planning out a lot of great shows to play. While our future is still unclear, we're looking to make the most of what we have right now.
 J.A: We are still going to be practicing, writing, and involved with music individually. Whenever we have breaks or long weekends, we'll try and get together and perform.
 Q: If you could you give advice to aspiring musical groups, what would you tell them?
 T.A: Try to get as much exposure as possible by playing whenever you have the opportunity.
 Garrett: I'd say that the downfall of aspiring music groups is that they try and make music that other people will like. They try and turn their creativity into a tool for success. My advice is to do it because it's what moves you. Put energy into your music [and write as much as you can], and people will like what you make.
 D.A: Practice and perform as much as possible. The best way to get better at doing anything is by doing it as much as you can.
 J.A: Don't be afraid to step out of your element…And don't give up. Not every song is a hit, so don't get down on yourself if you are having trouble [writing].
About the Writer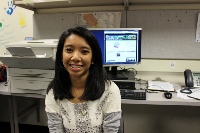 Sarah Wong, Online Editor
Sarah Wong is the Co-Editor in Chief of the Online News. She works with Sam to upload articles, pictures, and other interesting content. She's really...