Bartaco brings taco fusion to Deerfield
Falafel and spicy tempura among unique fillings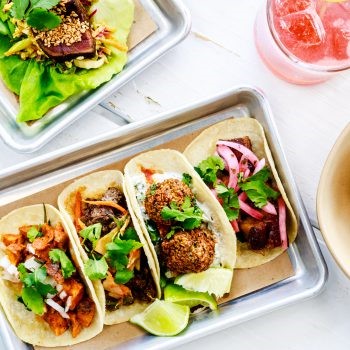 Hang on for a minute...we're trying to find some more stories you might like.
While it may seem like your average chain restaurant, Bartaco in Deerfield is anything but.
The decor is very beachy, and the restaurant is designed to make you feel as if you are on vacation with wood everywhere, plants hanging from the ceiling, booths that look like pool chair cushions, and tons of natural lighting and open spaces.
Bartaco can be found at 711 Deerfield Road in Deerfield. While the Bartaco sign is visible from Deerfield Road, the entrance is around the corner. Bartaco is open fairly late for a restaurant in the suburbs. Their hours are 11:00 A.M.-11:00 P.M. Sun-Thurs, and 11:00 A.M-12:00 A.M Fri-Sat.
Bartaco does not accept any reservations, but I didn't have any wait time when I went for dinner. You can also call ahead or download the app if you are worried about wait time for seats.
Bartaco takes a do-it-yourself approach when it comes to ordering. First, read through the menu like at any other restaurant. Then, once ready to order, fill out a card and check the boxes next to the menu items to place an order with pencils that are provided at the table. Then give the cards to the server to order.
At Bartaco, Tacos are $2.50-$3.50 each. "Not tacos" range from $3 (salsa roja) to $9.50 (roasted half chicken). Rice bowls are $8.50 each. Sides are $2.50 each. Desserts range from $3.50 to $7.00 each.
The tacos reflect a variety of global influences, including Mexican, South American, Asian, Spanish and Italian such as baja fish, chicken pastor, spicy tempura-battered cod, carne asada, chicken chorizo, mojo pork carnitas, Portobello mushroom, cauliflower, falafel, roasted duck, tuna tatako, seared swordfish, crispy rock shrimp, and glazed pork belly.
The service was very fast, and my tacos were brought out within minutes of placing my order. I ordered a falafel taco, a carne asada taco, and a crispy rock shrimp taco. The tacos are fairly small, so I recommend ordering 3 or getting a side in order to have a full meal.
The falafel taco was my favorite. It was definitely unconventional, but delicious nonetheless. The falafel taco had whole falafels in the tortilla with a tangy tzatziki sauce on it. The carne asada taco was great as well. It featured an "avocado salsa" on it instead of guacamole, which made it a little spicier than a regular carne asada taco.
Next time you are craving some exceptional tacos and a beachy vibe, head over to Bartaco in Deerfield.