Sophomore entrepreneurs prepare for 'Shampanimals' launch in June
Sophomores Charlie Olesker and Ethan Gray started their eco-friendly bath bar company, called Shampanimals, in Oct. 2019. They have been competing at business competitions and are preparing to officially launch their company in Jun. 2020. 
The business partners were friends in middle school before starting their company in high school, when they decided to pair up in their business class. 
"I have always loved watching Shark Tank, [so] for this particular idea,  I came up with the idea of a shampoo pill that would dissolve in water to reduce plastic waste, but I found out another teenager already invented it. My mom told me to make something for kids or dogs because parents would do anything for their kids or pets, and I was able to think of Shampanimals," said Olesker.
According to Gray, the name "Shampanimals," a mix of shampoo and animals, was created after the idea of an animal shaped shampoo bar. They wanted to create a fun name that would stick out to kids and would get them excited. 
"The process of making a Shampanimals is actually quite simple compared to bigger brand companies who have a plethora of ingredients in their product. It starts with a soap base that is shaved down and melted. Then the natural coloring, scents, and other four ingredients are added until it all mixes and settles. The shampoo is then poured into the molds where they need time to solidify, and then it is ready for use," said Gray.
According to Olesker, they use a "melt and pour" process to create the shampoo bars without the caustic ingredient of lye. The five main ingredients are all natural or safe synthetics, including the fragrance oils and coloring powders.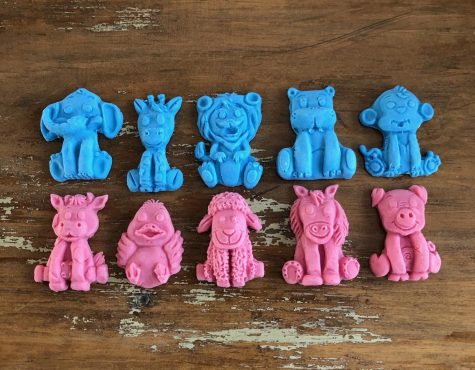 "Depending on the day and what kind of music I am listening to, it can take anywhere from 30-60 minutes [to make]. That includes prepping, heating and combining the ingredients, pouring the shampoo into the molds, waiting for them to dry, and lastly scraping off any excess shampoo that messes with the overall appearance," said Olesker.
Sophomore Ava Shah, reviewed Shampanimals and said she loved the smell of the coconut lime and how it left her hair smelling good and feeling soft. 
"I like this product especially because it's a fun thing to add into my shower routine. Yes, I may be a little old for it, but kids would definitely love a shark shaped soap to use in the shower. I used a third of the animal so [I] definitely could get multiple uses out of one animal," said Shah. 
According to Gray and Olesker, running the business is time-consuming, especially the startup. Without resources like a chemist, researching and experimenting is crucial in making a successful, and safe product. 
"Within the first five years of a business' startup, over half will fail. Pushing through the difficult tasks could be the determining factor of whether you are one of those 50%. So it is crucial to persevere," said Gray.
According to their Entrepreneurship teacher, Matthew Mercsh, Gray and Olesker have been to two competitions for Shampanimals, including Celebrating Innovators, where they won $100 each and the Midwest Pitch Competition in Whitewater, Wisconsin, where they received 5th place.
"Both experiences were awesome because they got to present their business idea in front of large crowds and answer questions from a panel of judges.  The judges asked them some difficult and realistic questions," said Mercsh.
Running a business has taught Olesker and Gray to be patient. They have to wait for prototypes to harden, test each batch to make sure it is eligible, and if not, then they have to start over. When their company launches, a pack of 10 Shampanimals will cost $6.99.
"What makes us different is that we are the only eco-friendly shampoo bar that is targeted for kid use. We are also the only animal-shaped shampoo bar, which is something we are trying to get patented," said Olesker.
Gray and Olesker will be going to Culver Academy in April for a pitch competition where they can win up to $25,000. In May, there will be a pitch for New Trier at the Wilmette Theater where they can get an investment. 
"I hope Shampanimals continues to research their market and evolve their business. I also think Charlie and Ethan will use the knowledge that they have gained to start more businesses in the future," said Mercsh.