Chadwick Boseman: a hero on and off the screen
The 43-year-old "Black Panther" star's death came as a shock to millions of fans worldwide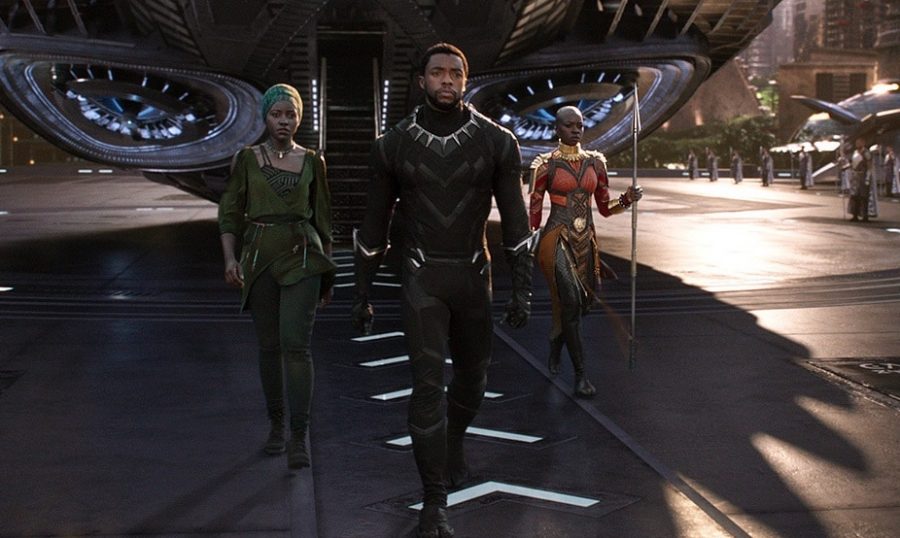 When actor Chadwick Boseman passed away after a lengthy battle with colon cancer at the young age of 43, the world stood still. It was as if the coronavirus and political squabbles were put on hold to mourn the loss of the charitable and amiable film star. 
 Boseman was known primarily for his breakout role as "Black Panther" in the Marvel Cinematic Universe, and he was an inspiration for millions of young African-Americans all around the country.
 After taking on the role of "Black Panther," Boseman's fame rose, as well as his impact on fellow African-American stars.
One of which is John David Washington, star of the new breakout Christopher Nolan film "Tenet." Washington met Boseman at a Vanity Fair shoot and got to know him after a "brief encounter."
"He was just as warm and welcoming as you would hope a leading man would be," Washington said of the late actor. "That's what he was, a leading man. He exemplified professionalism, and exemplified the kind of artist one would hope to be. He was very serious about his work."
 In a bit with late night host Jimmy Fallon, several young African-American fans stood in front of a theatrical release poster of Black Panther, giving their heartfelt thanks to Boseman for the film; only for him to promptly pop out from behind the poster and give them a warm embrace. These fans' praise had one crucial thing in common: "Black Panther" and Boseman had represented them, and they were inspired by the film. 
"As an entrepreneur of color, your movie made me realize that our stories need to be told," one participant said. "There's so many of us out there that are just trying to create great things, and I was inspired as someone who wants to make movies one day."
  It wasn't just those viewers that Boseman left an impact on. Back when he was promoting the release of "Black Panther," Boseman talked at length about two young fans who were fighting terminal cancer that held on because they wanted to see his film. 
 His visits to these children included showering them with "Black Panther" memorabilia and photos, and now that charity work holds deeper meaning of its own. 
 In a recently publicized text to an executive, Boseman said of the children, "They've been through hell battling disease." "If we could ease their suffering and bring joy for just a moment, then we made a difference in their lives." 
Celebrities everywhere paid their respects to the actor in various ways. New England Patriots quarterback Cam Newton flashed Boseman's trademark 'Wakanda Forever' pose after scoring a pair of touchdowns against the Miami Dolphins.
 A versatile actor, Boseman's life behind the camera was just as compelling  as on screen. His story is one of triumph, loss, and compassion.
 Boseman was born in South Carolina in 1976 to a modest family. As a junior in high school, he wrote and presented a play called "Crossroads," which was written in response to the murder of one of his classmates.
 He attended Howard University and, after receiving financial aid from none other than Denzel Washington, graduated with a Bachelor of Fine Arts degree in directing.
After scoring several small-time TV and film roles, he landed the part of baseball hall-of-famer Jackie Robinson in the acclaimed 2014 biopic "42." That same year, Boseman was chosen to portray American soul legend James Brown in "Get On Up."
 The two roles were starkly different from each other, and that acting range was what got Boseman a phone call from Kevin Feige, president of Marvel Studios. 
The studio was itching to introduce the character "T'Challa," or "Black Panther" into their expansive cinematic empire, and they only had eyes for Boseman at that point. 
 The actor went on to star in his own solo outing as T'Challa in 2018 when "Black Panther" became a box office juggernaut, taking in a flooring 1.34 billion dollars worldwide. 
 Very few in Boseman's life knew of his condition, not even the cancer patients he visited. But after his passing, they've gleaned many lessons that they're ready to share. His journey closely resembled that of a superhero, because he always put others first.
 One of these patients is a young woman named Zoe Dale. She attended a charity gala with Boseman during the release of Black Panther, and she made her admiration for him clear on CBS Evening News.
 "I think we should all take a lesson from him and respect what he's done," she said. "Especially after learning about what he was going through and he still had a smile on his face."