My first day back: Some thoughts – and tips – on returning to school and surviving.
On Tuesday, Oct. 6, 25% of the student body returned to the New Trier campus for the first time since last spring. Assuming students were healthy and thus able to acquire the bar code required for entry, they embarked on a bizarre first day of school amid a pandemic with teachers stressed as ever. Here's how the day looked:  
06:17 – I'm eating. I'm one of those people who's hungry right when they wake up and since I can no longer chow on my brekky during early bird, I'm eating now. Which… is less than ideal. The sun isn't even up yet. 
06:32 – In the car. Need to listen to some Italian rap to get awake. Going to school right now feels very unnatural. Whatttttt?
06:52 – Why do the halls seem so dark?
06:54 –The classroom was dark, so wandering around now. Very weird.
06:56 – Visit to the newsroom! I've missed it.
07:07 – Wearing masks on Zoom is a new look. There's three other people in the room with me. There's a transparent divider at the teacher's desk. Also, had a nice pre-class chat with a classmate; I guess that's what we're missing in remote learning. 
Oop, someone just came in late. That makes four other students.
It's weird seeing the teacher's actions in person and on the screen. Trippy. It's weird hearing people's voices live. Oh my, now I can see myself on the projector, acting a second after I do. Extra trippy.
07:26 – Am I supposed to look at the teacher, my screen, or the board?
08:04 – Did not miss the hike up to advisery. I've already walked more steps than normal. Tired.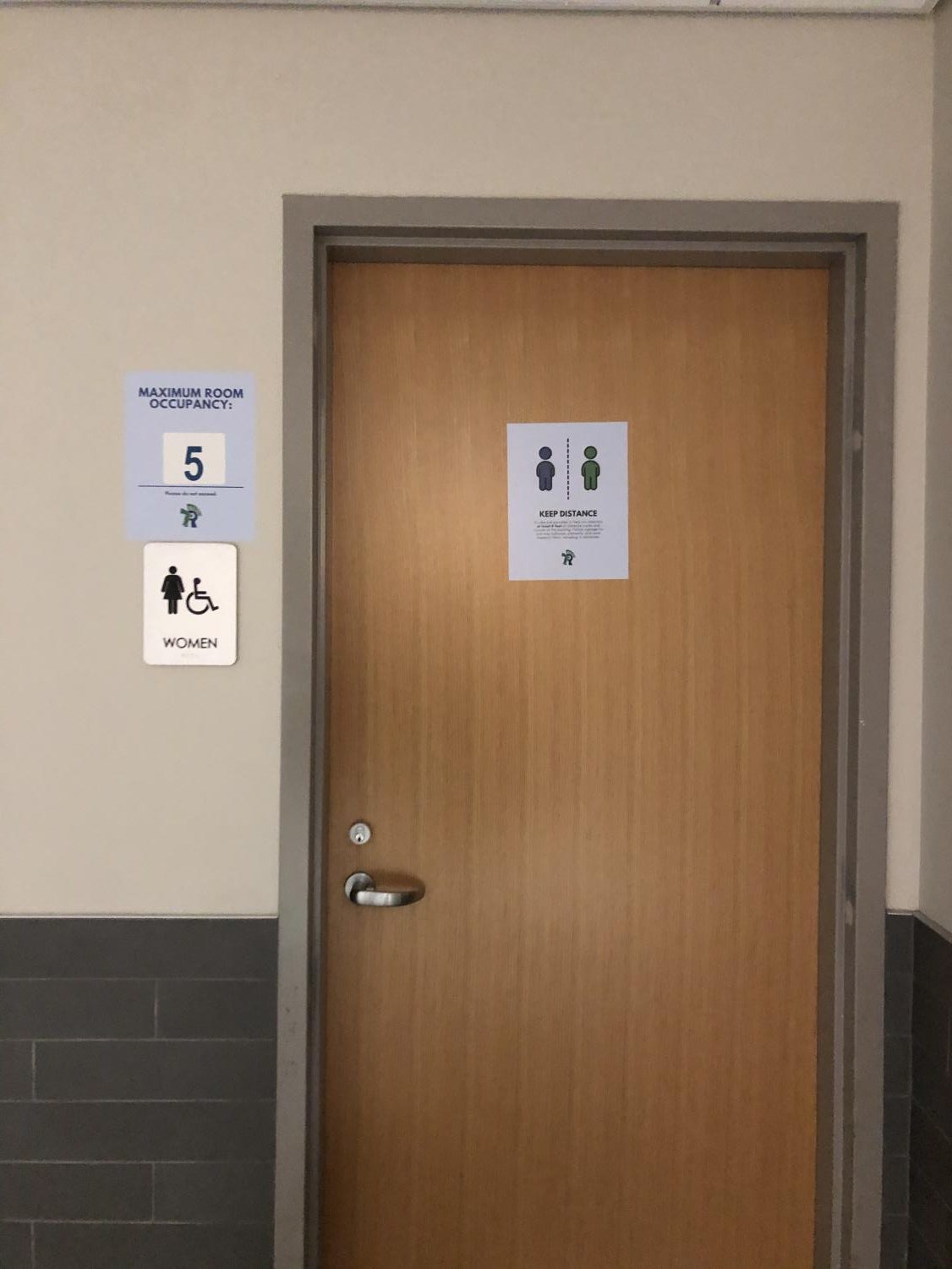 08:43 – Supervisor is MIA. Welp. 
08:51 – Update: She has arrived. Had to move seats even though we weren't sitting close together wtf. Kinda annoying but whatever I guess.
09:09 – Is it just me or do the class periods feel longer?
10:10 – Eating some goldfish and my friend Hillary is eating an apple. We are outside on the Trevian Way sidewalk and thriving in the sunshine. It's now that Hillary comes to a harrowing realization: "I did not bring enough food." 
10:19  – No wifi outside. Major rip. 
10:46 – In the reading and writing center now. Only tutor here. But we chilling 'cause I have a silent room to do some homework right now.
11:13 – Outside again. No one's 6 feet apart lol.
11:16 – Lmao – Supt. Paul Sally has come out and is trying to get people to spread out.
11:35 – Outside with Victoria who's eating kiwi and is a tad peeved she needs to change for KW: "Just let me chill in my jeans. They're super stretchy." 
13:10 – Outside again. Not as chilly as earlier with Victoria. Kinda hot actually.
13:27 – A musing from Henry: "Maybe I'll fall off the fourth floor. That would suck." I don't remember why that was said, but alas, here it is. 
Other tidbits worth mentioning… 
For some reason the wipes for wiping down desks are abnormally difficult to extract from the bucket, leaving hands uncomfortably foamy.
My phone battery got absolutely drained even though I was definitely on it less than when at home. It was at 4% by third period so I had to recharge. Don't know what that's about… 
A positive: There are a lot more spaces to go for free periods than the video depressingly suggested. Basically, it seems like all the regular areas are open as long as you social distance.
Let's be real. The 6-foot distance is not usually maintained in the halls, stairwells, while getting wipes, or otherwise.
Tip: Act like you have a purpose or know where you're going because the adults interrogating you is stressful. 
One last thought: While it feels like class time is largely similar to remote learning since so many people aren't there, it is nice to just move beyond my bedroom and kitchen and see other human beings, besides my family, in the flesh.