Bedrooms and basements vs classrooms and commons
Some students opted to return to their campuses for in-person hybrid learning, while others chose remote before the school moved back to full remote learning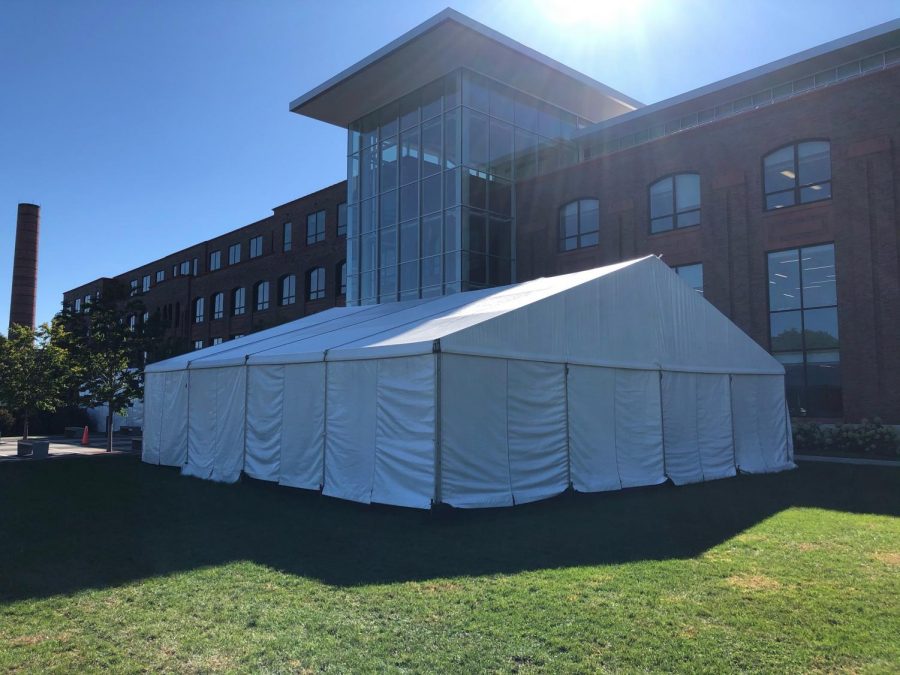 After months of deliberating, New Trier unveiled a 36-page plan to gradually welcome students back into physical school on Oct. 6.
The plan established several guidelines, such as prohibiting students from drinking or eating in class, and significantly slashing the number of students on each campus,  before the abrupt switch back to remote learning on Oct. 9.
The reopening plans prompted mixed responses from the community, with some saying this will turn New Trier into a pseudo-petri dish for COVID cases. Others had a more positive reaction to the news, saying it would foster a more productive and socially immersive learning environment; where students could connect with their teachers face-to-face and catch up with some of their friends in person.
Senior Claire Cohen attended in-person classes during the  first two days of the hybrid program. Cohen chose to participate for a number of reasons, one of the most prominent being her inclination to work more diligently in a physical classroom.
  "I don't necessarily feel a sense of academic relief coming back, but I do feel a sense of social catharsis, and I tend to be much more productive when I'm around others in person," said Cohen. "I don't really think that one form of education holds more advantages than the other; it's just the method of how I want to learn."
  Sophomore Leah Grace Hollander was especially excited to see her teachers in person, just as much as her friends.
 "I always think of my feelings about it like a hospitalized animal being released back into its natural habitat," said Hollander. "I am concerned, though, that COVID is still going to spread through the school and this will all be for nothing."
 After 5 days of hybrid learning, the school decided to return to mostly remote because of rising cases of positive rates in both the district and areas where faculty and staff live.
 Cohen took the time to reflect on her brief period back on campus, detailing what she liked about her time in person and what she wasn't too fond of.
 "As a person who loves routine, I found it really relieving to be back in a place where I have a more concrete schedule, and the efforts to social distance and contact trace were really impressive," Cohen said. "One thing that irks me, though, was that the teachers were a lot less flexible towards the kids during the first days of in-person instruction than they were during the remote lessons; and a lot of teachers really didn't seem like they were keeping up with all the changes."
  Senior Lily Ingram opted to do completely remote classes because of her respiratory condition, and though she's concerned about her ability to learn and focus in class, she's confident in the decisions she's made.
 "I think it's inherently harder to motivate students if they're not face-to-face with their teachers in a classroom setting," Ingram opined. "But I do feel that teachers have been much more accommodating over these past few months, because they're really empathetic to the students' struggles to keep up with the new workload."