Wilmette Chinese center nurtures cross-cultural roots
School helps native speakers of English achieve Chinese fluency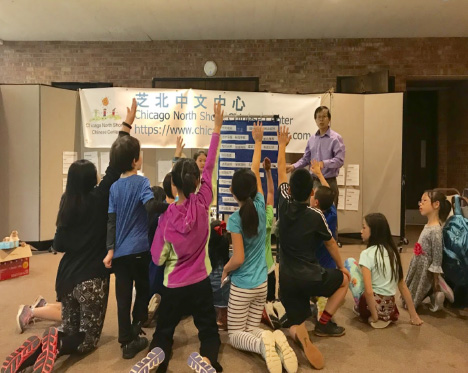 The classroom fills with laughter as students run around the room holding up the paper lanterns they just made. Others are sitting in a circle reading Chinese words out loud and the teacher is encouraging them with a smile. This is what Sujie Man, principal of the Chicago North Shore Chinese Center, sees at the center's after-school program. 
The center opened on August 7, 2017 as a daycare and to help young people learn Chinese. Man said that the center provides "enrichment classes which can make a student become proficient in a skill and eventually these skills can help a child grow exponentially." 
"
I speak mostly English at home. I want to speak Chinese fluently too and this center helps a lot with that"
— Hilary Guo
As a volunteer for 2 ½ years, senior Marissa Sun has seen the center promote student growth. 
"This center provides the students with experienced teachers and is very personal, making sure to fit the student's needs." Sun said. "They care and value each student that attends their center." 
The center emphasizes socialization and builds a Chinese community between teachers, volunteers, and students. The volunteers help younger students with their homework, Chinese vocabulary, and mental math. 
Sun said the community building creates a welcoming environment and a fun one as well.
 "The center and employees motivate the students to work hard as well as create lasting relationships with their peers. I have seen the joy on the students faces and the community they build with each other."
Hilary Guo, 6th Grader at Marie Murphy Junior High, has attended the center for three  years. 
"I speak mostly English at home," she said. "I want to speak Chinese fluently too and this center helps a lot with that. The teachers and volunteers help me when I don't understand something and I'm surprised at how much my Chinese has improved after each summer." 
Yuanbingyue Larkin, a 7th Grader at Wilmette Junior High School, went to the center everyday after school during 5th and 6th grade. 
"The people I met are all nice, and I think the friends I made were the most valuable part of it," she said. "The center is a good place to do your homework, and have others help you with it." 
And the students aren't the only ones who gain from attending the lessons, the volunteers do too. Sun wanted to use her free time in the summer to help students because it could allow her to give back to the community and learn new skills and she did. 
"I have learned lessons and gotten experience that will be valuable in the future. How to create an encouraging environment, how to adapt to a student's needs, and other useful life skills."