New Trier rings in the Lunar New Year, remotely
Clubs, classes, and students adapt to celebrating Lunar New Year in a remote setting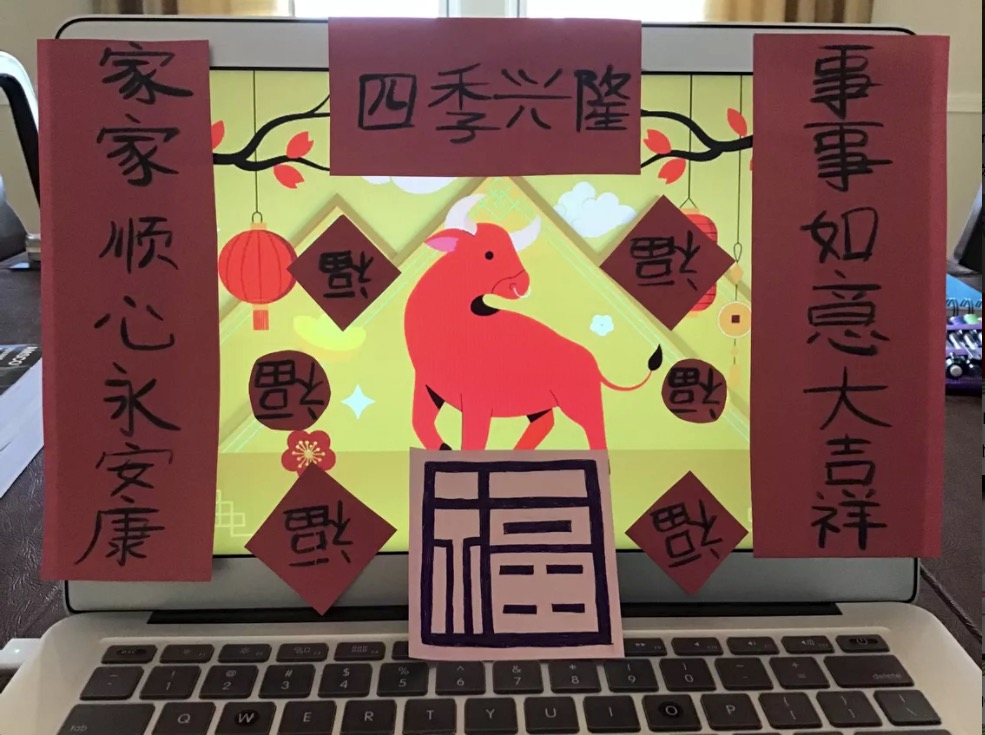 Feb. 12, many traditional celebrations like dragon dances were cancelled due to COVID-19 restrictions. Despite setbacks, New Trier classes, clubs, and families found ways to hold festivities—albeit with some adaptations.
Mandarin teacher Sara Chao led activities for students such as writing "fu-zi", or good luck charms, on index cards to hang near workspaces. Students also cut paper snowflakes to decorate windows, an activity traditionally done during Chinese New Year to bring prosperity to homes.
Typically, these activities would be done in-person. This year, however, Chao had to make compromises to ensure that all Mandarin students—hybrid and remote—could join in on the fun.
"Instead of red paper, we used any type of colorful paper," explained Chao. "One of the activities we did, we used sticky notes, which are commonly found around the house."
"
We have to be thankful, because could this have happened twenty years ago, and we may have not had this technology readily available to everyone."
— Sarah Chao
Sophomore Erin Lee, a student leader of Korean Culture Club, also made adjustments to the club's Korean Lunar New Year, or "Seollal", celebration plans.
"In the past, I would bring in games played in Korea during Seollal. For example, 'hwatu', a game where you slap cards onto each other and try to gather specific groups of things, and 'yutnori', a game across a map, with four sticks to shuffle and throw instead of using dice," said Lee.
Instead of playing games this year, the club will see and talk about "hanbok", traditional Korean clothing often worn on Seollal.
Chinese Culture Club, which Chao sponsors, did trivia to entertain and inform members about China. Trivia topics included foods, language, cultural practices, classic stories, holidays, and even ghosts and monsters in Chinese legends.
"I thought it was really fun, and it got students engaged," said Chao.
Perhaps one of the biggest adjustments in celebrations across the school is the absence of food.
"I used to always bake trays of rice cake and bring them to school," said Chao. "This year, my students didn't get a snack for Moon Festival, didn't get a snack for Lunar New Year, and won't get a snack for 'yuan xiao jie' (Lantern Festival)."
Korean Culture Club will also not be consuming foods, specifically beloved Seollal treat "yakgwa", a deep-fried wheat-based biscuit, made with honey, rice wine, and ginger juice.
Junior Elana Lau was still able to enjoy a Singaporean/Malaysian raw fish dish ("yu sheng") with her family for the Lunar New Year.
"Everybody gets their own pair of chopsticks and gathers in a circle around the dinner table; using chopsticks, we mix up the yu sheng before throwing it in the air," said Lau.
This year, Lau's family shaped their yu sheng into the design of an ox, to commemorate 2021, a Chinese zodiac year of the ox. However, according to Lau, not being able to share the dish with extended family members was unfortunate.
To combat not seeing extended family during the pandemic, many families used Zoom, Whatsapp, WeChat or other video calling apps to contact their loved ones during Lunar New Year. Chao calls the existence of communication technology during the holiday a "silver lining".
"We have to be thankful, because could this have happened twenty years ago, and we may have not had this technology readily available to everyone," she said.