White anti-racist affinity group addresses inequity
Group is part of New Trier 2030's plan to create equitable school climate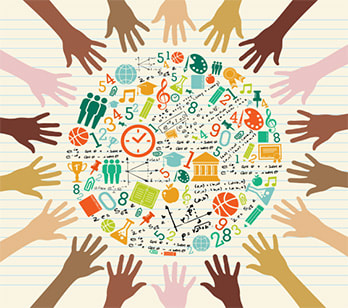 During the X Block period on Feb. 3, New Trier's White Anti-Racist Affinity Group held its first meeting over Zoom. The group will focus on understanding aspects of the white identities of members and will promote allyship and racial justice within school.
English teacher Rachel Hess laid the groundwork to launch the group with two other co-mentors over the past two years. Her interest in equity spans over a decade, as one of the first members of the all-staff New Trier Equity Team.
"
The only way to move forward is to learn how to work together, to make our school a safer place, a more equitable place, and one that both white students and students of color truly feel they belong."
— Kiran Subhani
At New Trier, affinity groups exist to help students who may have experienced alienation due to their racial or religious backgrounds, sexual orientations, gender, and history with mental health issues.
According to Hess, "Over time at New Trier, hurtful things have happened to marginalized communities, and oftentimes it's as a result of people who are white. We wanted to work on ourselves and make sure we're not harming others."
A motivating factor behind forming the group was to give white students a resource to better understand their racial identities.
"The group is made up of white participants so as to create a space wherein we can explore what it means to be white in a multi-racial society," said Hess.
In recent years, the school has integrated programs to increase awareness about racial equity, including Seminar Day and N-word presentations in advisories. Despite these efforts, many students feel the attempts have been ineffective.
"People seem to not take it seriously, and I think that's been a big problem within New Trier," said sophomore Sofia Ali.
To combat negative attitudes, Hess believes New Trier should incorporate more race-oriented dialogue into curriculums.
"As a school, we need to have more open conversations about race," said Hess. "A lot of times, students can be very uncomfortable because staff and teachers need to work more on how we facilitate that kind of dialogue."
Tackling a school culture without enough race-centered conversation can be tough, but the affinity group has defined goals.
"We explore what it means to identify as being white, as a race. We also look at how white people can enter into allyship with people who identify differently, racially. [The affinity group] is a place to talk openly about issues of race, becoming an anti-racist, and working toward equity here at school." said Hess.
Mentors in the group will discuss with students to decide on potential equity-related projects around the school
"This is a student group, and hopefully we'll be student-led someday," said Hess
While some students saw a necessity for an affinity group of white students to help people of color, other students were perplexed by the idea. 
Senior Tricia Yang remembers feeling "pretty confused" upon hearing about the new affinity group.
"The purpose of the affinity groups, from my understanding, is that they are groups to support minorities," said Yang. "The idea of a white anti-racist affinity group is confusing. I wondered, 'What kind of support would they need?'" 
Despite initial doubts, Yang explained that she is excited to collaborate with the group in the future towards the shared goal of racial equity..
"I love that students, despite backgrounds, can come together to work on something, and I hope that's the message," said Yang.
Kiran Subhani, a mentor of the New Trier Racial Affinity Coalition, says last summer, teachers in subcommittees researched and examined models of school communities to understand how to best engage students in racial equity dialogue and work. Their findings concluded that having an exclusively white anti-racist allyship affinity group would be largely effective.
Still, Subhani emphasizes the importance of bringing different racial affinity groups together to have open conversations about race.
"Finding points of intersection where you bring both groups together for dialogue, understanding, and projects that they could work on builds trust and builds community," said Subhani.  "Then, it becomes an all-school effort. It becomes more proactive instead of reactive."
Although the racial affinity groups operate individually much of the time, they are connected in their pursuit of a universal goal.
"We're all in the same struggle. The only way to move forward is to learn how to work together, to make our school a safer place, a more equitable place, and one that both white students and students of color truly feel they belong," said Subhani.
The White Anti-Racist Affinity Group meets bi-weekly on Wednesdays during X-block.