Challah Talk Chapter 2: Return of the Challah
Seniors Jack Wineman and Jesse Shapiro take over popular podcast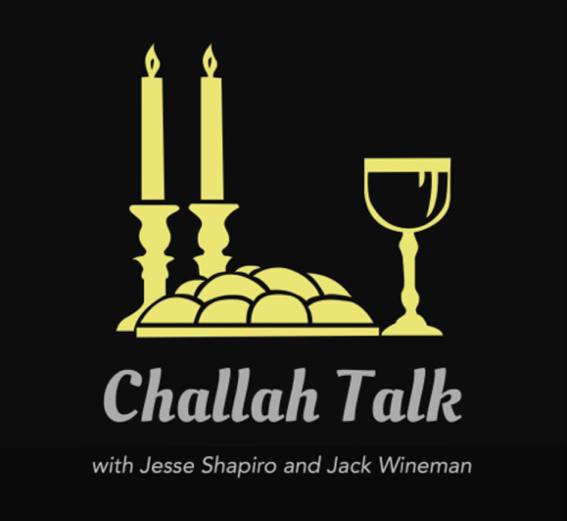 "
"[New Trier] is such a big and overwhelming place filled with so many people that you can never get to know on a personal level. We felt like Challah Talk could fix that in some way"
— Jack Yonover
In 2019 then seniors Jack Yonover and Bobby Becker created the student-based podcast Challah Talk. Once Yonover and Becker graduated, the show traded hands to current seniors Jack Wineman and Jesse Shaprio. 
The premise of the show is each episode a guest brings a challah, a traditional Jewish bread, and between the guest, Wineman, and Shapiro, they all rate the challah.
"We'll rate the challah in a system similar to a Dave Portnoy pizza review. But instead of out of 10, each person between me, Jack, and the guest rate it out of 6. If you get three 6s that gives you an 18 which is the holy number in Hebrew and stands for life," said Shapiro.
Yonover, the co-creator said he made the show "to find the commonalities between people at New Trier".
Wineman and Shapiro want to maintain that goal, with each episode having a completely different personality.
"One episode that people really enjoyed was the one with Matt Booden. Hearing about what activities he's involved in and what the bowling team means to him really stood out," said Shapiro. "In another episode we heard from Marin Freedman who runs her own business. There are so many different topics and everyone has an interesting story".
Last year the new co-hosts never thought they would be given the opportunity to run the show, but Yonover knew they would be a perfect fit.
"My junior year, I was in a chemistry class with both Jesse and Jack. Both of them had very distinct yet funny senses of humor, and we could make each other laugh for 80 minutes straight. It just seemed logical to hand the show to those two," said Yonover.
While Wineman and Shapiro kindled the relationship with Yonover two years ago, before Challah Talk was created, they kept their friendship going and loved discussing the show.
"Yonover and I were in the same physics class last year, and we'd spend every free period talking about challah talk and potential ideas. We'd brainstorm because I love the premise," said Wineman.
The new hosts have been forced to adapt their show amid the pandemic. Originally Becker and Yonover used the school's podcasting studio, but Shapiro and Wineman haven't had that same luxury.
"In our first episode, we had this tiny orchestra microphone and we recorded in Jesse's garage and the sound quality was completely garbage, echoing off the wall. Since then I've picked up a mic, but it has been difficult since me and Jesse aren't the most tech savvy kids at New Trier," said Wineman.
Another difficulty the two have had to face is spreading the word of their podcast.
"Growing a podcast that's based around a school and trying to create a whole new audience is very difficult when you're not at school the whole time. That's how the podcast grew last year, it spread by word of mouth," said Shapiro.
Despite the challenges, Wineman still understands the importance of the show and how it can bring people together. 
"Jesse and I weren't really friends throughout high school even though we grew up really close. Challah Talk has really brought us a lot closer together which is really cool."