Such Dogecoin, much wow
Months into 2021, Dogecoin prices are going to the moon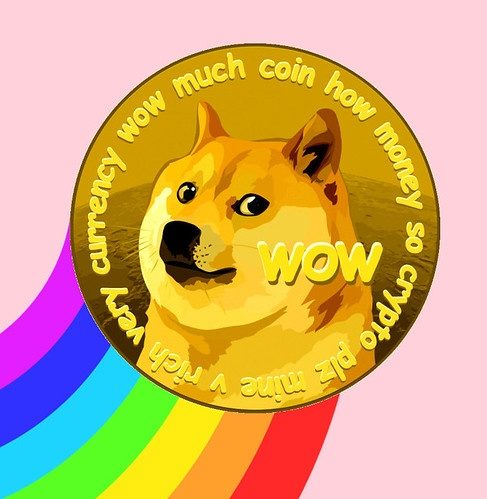 Interested in hiding your shady purchasing history from the government? Try using popular cryptocurrency Dogecoin.
Formed in Dec. 2013 as a joke, Dogecoin became an immediate hit following its launch. Despite the original aim to make Dogecoin "as ridiculous as possible," according to a 2019 interview with founder Jackson Palmer, many found Dogecoin an attractive cryptocurrency for being easy to mine and affordable, with each Dogecoin (easily identifiable by the ticker symbol DOGE) costing fractions of a cent at the time.
Cryptocurrencies are a form of digital currency traded for goods and services, similar to how real currencies are exchanged. Like real currencies, cryptocurrencies don't generate money, so to profit, somebody has to buy the cryptocurrency at a higher price than you. 
Unlike real currencies, cryptocurrencies fluctuate in value often and are extremely unstable, but buyers tend to enjoy the anonymity; the design of virtual currencies make transactions almost impossible for the government to track.
Dogecoin's loyal followers, called "shibes," not only have an affinity for the cryptocurrency itself, but for the currency's Shiba Inu mascot, Doge. Originating in 2010, Doge's wide eyes and bland face expression inspired early internet users to create incoherent thoughts for the dog, like "so scare" and "such tired". Doge's popularity peaked in 2013, eventually inspiring the formation of "fun and friendly internet currency" Dogecoin.
Along with the January 2021 surge of Gamestop stock price, internet users helped Dogecoin skyrocket to an all-time high price of $0.08 per coin, reaching a market capitalization of $7 billion.
"
In an open digital economy, memes move markets."
— The Conversation
A driving force behind Dogecoin's recent stardom were the endorsements of several celebrities including TV personality Carole Baskin, rapper Snoop Dogg, and billionaire Elon Musk. Musk's Twitter feed in particular included a flurry of Dogecoin-related tweets, ranging from memes of Dogecoin dominating the crypto market to his own personal predictions on the currency. His tweets earned tens of thousands of retweets and likes, many preceding Dogecoin price booms.
Beyond a rising cryptocurrency to watch, some large businesses have announced that they will be accepting Dogecoin as a legitimate form of payment in the future. Two enterprises leading the way are U.S. hotel chain Kessler Collection and NBA team Dallas Mavericks, which became the world's largest Dogecoin merchant in early March.
Mark Cuban, the owner of the Dallas Mavericks said in a press release, "In business, you have to do things that are fun, engaging, and hopefully generate a lot of PR, so we will take Dogecoin today, tomorrow, and possibly forever more."
The rise of Dogecoin may mark the beginning of meme culture influencing large aspects of real life. Similarly to how Reddit users effectively drove up the price of Gamestop stock to see hedge fund managers sweat, trading and tracking Dogecoin is fun, a trait ingrained into the design of the currency from the start.
It's ironic how Dogecoin, originally just a piece of internet humor, developed into the world's ninth largest cryptocurrency. "But in an open digital economy, memes move markets," wrote news outlet The Conversation.
Due to Dogecoin's success, Business teacher Matthew Mersch anticipates that hundreds of people will create cryptocurrencies in the near future, which he is not a fan of. 
"The success of Dogecoin will make everyone and their brother think they can start a cryptocurrency and get rich," said Mersch. 
Mersch is highly critical of all cryptocurrencies, not only Dogecoin.
According to Mersch, "98% of people who buy a cryptocurrency are speculating the price of it going up; they're not buying it to use as a currency. Cryptocurrencies are dumb and they'll eventually go away."