Robotics Club constructs prosthetic arm for child
Club has collaborated with eNABLE to make the project possible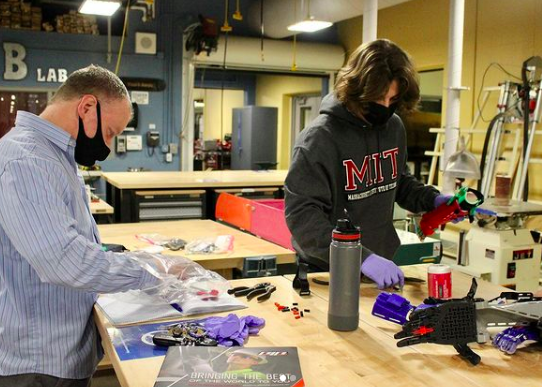 The New Trier Robotics Club has been building a prosthetic arm for a boy in need. The project has been run through eNABLE, an online community where volunteers can build prosthetic limbs for people in need. Junior Luka Schulmeyer and Robotics Club sponsor Chip Finck have been the two main engineers of the arm.
Schulmeyer gave an update on the current state of the project.
"[We have already] made a base design, but we're currently trying to make a second variation of the arm for him," said Schulmeyer. "When he was using it, he didn't have enough strength in his arm to properly close it. It still worked, but it could definitely be improved."
Schulmeyer said that it hasn't been too difficult to construct the prosthetic.
"Actually assembling [the arm] and putting it together is not very difficult," said Schulmeyer. "There's guides on eNABLE [on how to construct prosthetics]. The hardest part is adjusting the tensions so that it isn't too hard to shut the hand and have enough grip strength to hold onto a bottle."
Finck agreed that one of the main challenges with building the arm has been modifying it to fit the clients' needs.
"You have a base prosthetic to work from, but then you have to modify it," said Finck. 
"Everyone's limb size and strength is different, and you don't know what that is until you have a chance to meet them. Everything has to be changed, modified, and customized for each client."
 However, Schulmeyer said that planning the project during the pandemic has been the biggest obstacle.
"I haven't gone into school every single day so I can't just go up and talk to [Finck] during free periods," Schulmeyer said. "A lot of [communication] has been over email, but we got permission to have the kid and his dad come into school so he could try on the arm. But that alone took three weeks of preparation."
Finck agreed with this statement.
"This is an activity that is hands-on, so it's been very difficult to do online. We were just fortunate to actually meet the client on campus," said Finck.
Finck has found that the project has been very rewarding for him and his client.
"I think it's a great opportunity to give back to others and live out the school motto," Finck said. "It was really nice to see the boy's expression on his face when he put on the device for the first time."
Schulmeyer has also enjoyed the project, and plans on doing similar projects in the future.
"We're definitely going to help more people if they come to us and ask us to build a prosthetic," Schulmeyer said. "[I also want to] create more resources to show people how to build [prosthetics]."