Shookies Cookies serves a sweet treat
The company specializes in handcrafted cookies baked with a signature cookie dough taste
While you may think that every chocolate chip cookie tastes the same, Shookies Cookies bakes anything but the typical cookie.  
Sheri Handelman, the owner and baker, has been well known on the Northshore for her baked goods.  The growing business that started from home has been operating at 1003 Waukegan Rd. Northbrook, since February 2021. 
"I started the business 4 years ago. I began working part time in my home.  I was fortunate to get my foot in the door at Hometown Bakery and Juice prior to their opening. My cookie business was exploding at Hometown as they were selling 25-30 dozen cookies a week," said Handelman.  
After selling cookies at Hometown Bakery and Juice, Handelman launched her website and e-commerce business. Baking was always her hobby, but her mom was her biggest inspiration to start her business. 
"
My mom being a successful women entrepreneur is really cool and quite frankly something I get to brag about."
— Cole Handelman
"[My mom] spent all her free time baking for her kids, grandkids, nieces and nephews. She also hand delivered cookie trays every holiday season to people who were close to her," said Handelman. "Unfortunately, she passed away on the day I bought my bakery. My biggest regret is that she was never able to see my space." 
Shookies Cookies is a family centered bakery. It's a tribute to her mom, where she honors her memory through her cookies, and her son Cole Handelman, a senior at New Trier, also plays a part. His role is to advertise and help market the business. 
"Along with delivering cookies for her and being the delivery man, I help advertise. Lastly I occasionally work at her kitchen packing the cookies there. Because of the fact that I am a high school student, I have given her opportunities to sell to my peers in different settings," said Cole.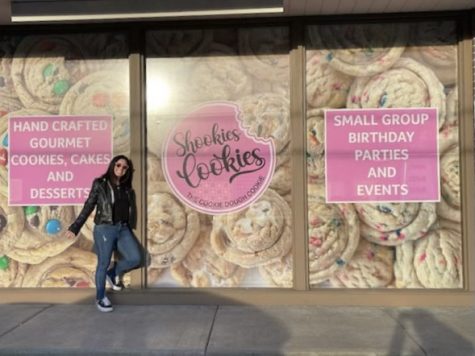 Shookies Cookies was at New Trier's Lunch-on-the-Lawn, on Sept. 23. All of the cookies sold out before the event finished. 
"It was really cool seeing all the attention my mom was getting. She sold out of all her cookies and had around 500 to 600 there. So lots of my friends were buying them and it was a great experience," said Cole. 
Handelman said she loved being a part of Lunch-on-the-Lawn and hopes to participate in the future. She said the special cookie dough cookie recipe took a long time to perfect. 
"I began with just one chocolate chip cookie recipe and re-created it to get the perfect doughy consistency. I then tweaked many different recipes by using close to the same measurements and baking techniques as my chocolate chip cookie recipe," said Sheri. 
Cole's friends loved his mom's cookies before the company launched, and begged her to make them whenever they would hang out, he said.  Since the launch of the company, he is very proud of his mom's hard work and success. 
"My mom being a successful women entrepreneur is really cool and quite frankly something I get to brag about. She works super hard so she deserves any recognition she receives. When it comes to the kitchen in Northbrook it was a very recent purchase but has helped her out tremendously and is super important," said Cole. 
Cole said the success of the business speaks for itself. He sees Shookies Cookies blowing up over the next few years and hopes to see people eating them all over the country. 
"I would love to keep growing and adding new flavors to keep spreading the Shookie Love," said Handelman.