Agents help students fulfill their dreams
New Trier is a well-rounded school, providing classes that cater to everyone's interests – especially that of performers.  Some of New Trier's students have decided to pursue their dreams outside of school. While it can be hard to break into the music and TV industry, juniors Alina Taber and Kevin Quinn, and New Trier alum Katie Chang found agents to be helpful in building their careers.
Agents have connections to casting directors and access to a variety of audition opportunities, which makes it easier for their clients to find jobs.
Quinn says, "Think of agents as the pre-screening process."  He shares that many directors consider the actors who have agents more for roles because they know automatically tell they have talent, as the actors undergo an audition for the talent agents to be accepted by the agency.
"Having an agent is like being a step ahead of the game."  Taber explains, "I've really put my foot in the door…I'm going to be seen by all sorts of different people."
Taber currently has a recurring role on NBC's "Chicago P.D." as the daughter of a police officer.  She decided to audition for Stewart Talent Agency in Chicago two years ago, where the agents chose to represent her because of her natural abilities in acting and singing talent. Taber now also has an agent in L.A. at CESD Talent Agency.
Quinn is working at Steppenwolf Theatre Company in Chicago, in the production of Lord of the Flies.  He is with Gray Talent Agency, accepted because the agents had seen him sing on "American Idol," where Quinn auditioned in the summer of 2012. He was among a number of Hollywood hopefuls on Idol, and this allowed him to bypass the normal process of having to go to multiple agency callbacks.
Chang graduated from New Trier in 2013, and she began her professional acting career with a manager in New York, who eventually booked her for "The Bling Ring."  Due to her success, agents from ICM in Hollywood asked to sign her, so she didn't have to go through the typical audition process for an acting agency.
New Trier's choir program has benefited Taber's ability to read music, and she is excited to be participating in NT's Swing Choir this year.  Her summer in Skokie's North Flight Theater also helped her land an acting role.  "I've always had people helping me with my professional theater experience." she says.
The theatre classes at New Trier have helped Quinn's acting skills.  The teachers taught him to analyze the scenes and learn about playwrights in depth, a method of learning he enjoys.  "[The theater teachers] are on top of their game."  He is taking choir opera and swing choir.
The continuous work of going into the city for auditions and work on multiple occasions a week can be time consuming.  In terms of finding a balance between school and pursuing an acting career, Taber feels, "I don't think I've quite found it yet."  She laments falling behind in math and English when she has to leave early for an audition or shoot, noting, "Those are tough to make up."
While theater is her main priority, she would like to go to university to study courses in psychology and Hindi, so keeping up in school is important.
Quinn has had to make various schedule changes to accommodate the rehearsals at Steppenwolf, hire a tutor for math, and miss his morning classes Tuesdays through Fridays during production.  He remains dedicated to his schoolwork, though it is difficult to keep up.
He adds, "I can't imagine not completing high school."  He is looking at colleges with strong theater departments like DePaul University and Juilliard, and he wants to major in theater when he graduates.
In gaining more recognition as an actor, Taber says, "I feel like it's interesting, because all of the sudden, people are being nicer to me."  But Quinn states his life hasn't changed much, besides some audience members who ask him for pictures after a show.  As for his friends: "I'm still their good little buddy."
And Chang mentions, "I've gotten the chance to meet so many interesting people now that I am working with ICM.  I would never have the chance to audition [for major motion pictures] if I hadn't signed with my agency."
The premiere of "Chicago P.D." will air on January 8, 2014 on NBC, and Lord of the Flies is running shows until November 15 at Steppenwolf Theatre Company in Chicago.
About the Contributor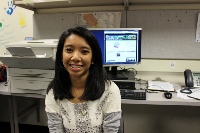 Sarah Wong, Online Editor
Sarah Wong is the Co-Editor in Chief of the Online News. She works with Sam to upload articles, pictures, and other interesting content. She's really...