The clash of culture and Code of Conduct
School trips abroad still subject to school rules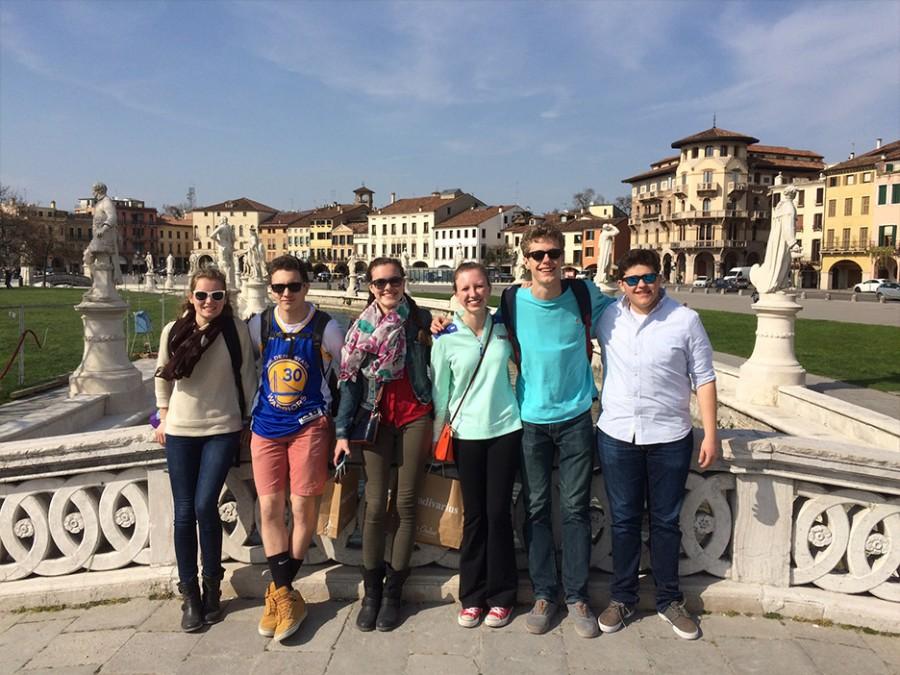 Emily Abt, Staff Reporter
April 15, 2016
On March 18, New Trier's Symphony Orchestra and Symphonic Wind Ensemble flew to Italy for their 2016 performance tour.
This eight day tour consisted of three major performances as the group made their way through Rome, Florence, Venice, Milan and Cremona.
The Symphony Orchestra and the Symphonic Wind Ensemble are two of the most prestigious and advanced music programs New Trier offers.
Students in both groups perform at concerts and festivals, and according to the Program of Studies, are also "recorded for broadcast, live or taped, on local television, WNTH radio, and the Internet."
Even with all of the rules and regulations, students had freedom so that they could explore Italy. They had the opportunity to experience being a musician in the real world.
For students who travel abroad on school sponsored trips, exploring cities independently is when ethical dilemmas occur.
Athena Arvanitis is New Trier's Director of Student Life. She coordinates trips abroad and works with the faculty on establishing guidelines.
In order for a student to be eligible to go on an excursion there are varied levels of protocol.
"There are three different types of excursions," Arvanitis said, "One is your day field trip. You fill out a field trip card, all your teachers sign it and you get excused from the day, your parents sign it to give consent, and then you go on the field trip and miss a day of class."
There are also the over night trips which are within the United States. "With over nights, we have more of a paper process when it comes to parent consent. We also have to identify the liabilities," she said.
Because Italy is an overnight, international excursion, the school is very vigilant about students complying with school policies while away.
There is vigorous preparation that takes place before partaking in an international program. The students are informed about everything before they go.
In an international program, there is a parent evening where sponsors go over the itinerary, inform parents of the school's expectations, and ask if there are any medical needs.
"They will also talk about school rules, and students need to abide by whatever the rules are here at our school [versus where they are] because they are representatives of New Trier, and our primary concern is student safety," Arvanitis explained.
"So when it comes to kids making decisions when they're abroad, we want them to understand that it doesn't matter where you are in the world. When you're on a school sponsored trip, the school rules apply," she said.
This is also stated in the New Trier Guideline Policies: "Because trips and tours are considered part of the total school program, all school rules and students behavior codes apply. Misconduct on a school field trip or tour will result in disciplinary action."
There is no excuse or justification for students to violate any of the policies, because at the beginning of the year every student receives a guidebook saying that, "I understand that if I violate the express or implied terms of the Extracurricular Code, or if I engage in any behavior that negatively affects my activity, fellow students, school, or community, I will be subject to disciplinary measures that may include the immediate revocation of my privilege to participate in the extracurricular program."
Even with all of the rules and regulations, students had freedom so that they could explore Italy. They had the opportunity to experience being a real musician in the real world.
"Students also got to see performances, and learn the history about the music they were listening to and engaging with while they were there. They also got to go to museums that were related to music or instrument making," Arvanitis said.
The school works with a student travel agency to set up an itinerary, book the hotel rooms and plane tickets, and buy tickets for the events they attend.
The company provides the school with local Italians who are familiar with the area. This gives New Trier the most authentic experience.
New Trier's Symphony Orchestra and Symphonic Wind Ensemble had the opportunity to explore Italy as a true musician, making it one of the most prodigious excursions.