The fight for LGBT+ rights rages on
North Carolina's anti-gay. laws draw national attention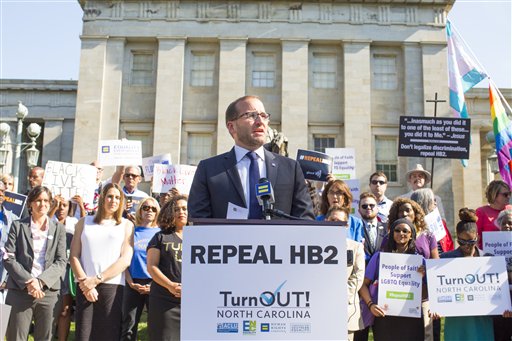 With gay marriage legalized, we've essentially plunged our rainbow flags into the ground and can move to other issues, right? Maybe not.
Even after the Supreme Court's ruling on Obergefell v. Hodges, the case that legalized gay marriage, the LGBT+ community's struggle for equality is not quite finished.
This issue rose to prominence most recently when North Carolina enacted a measure that prevents cities from banning the discrimination of LGBT+ people. At the same time, a bill which gave religious groups the ability to deny service to LGBT+ individuals was proposed (and recently vetoed) in Georgia.
These laws have not gone without recognition. Many companies spoke out against them. Big corporate names like PayPal and Bank of America denounced such laws, as have other major tech and entertainment companies.
Most students didn't know too much about these new laws. They knew the laws existed, and they knew they were anti-­gay, but when it came down to the laws themselves, the understanding was general.
"America stinks a lot of the time," junior Matt Shapiro said. "It's hard to keep track of the latest incident."
This kind of pessimism isn't uncommon. "Anti-­gay and trans laws coming from the 'Bible Belt' don't exactly surprise me," junior Allison Thabit said.
Despite this, Thabit was disappointed that more progress on LGBT+ issues hasn't been made. "Even in 2016, in the most accepting America yet, we still have setbacks on basic human rights."
Senior Claire Zimmerman agreed, "It's clearly not a good idea to pass these laws, ­­both on a basic human rights level and a financial one."
Zimmerman referenced a similar law passed in Indiana about a year ago. After passing the law, Indiana lost $60,000,000 dollars in revenue and these newest laws promise to be even more costly. Disney has refused to film in Georgia if their anti­-gay bill is passed, and the NFL said that they will not hold a Superbowl in any state with this kind of legislation.
Of course, dealing with religion is always difficult. "I think that if certain people don't want to work with people in the LGBT+ community, those in that community probably don't want to work with them. Especially when it comes to religion, it's hard to find a balance," a student who wished to remain nameless said.
Georgia's state government believed they had found their balance with this law and claimed they would continue to fight for it.
According to Georgia State Senator Joshua McKoon, in an article in the Atlanta Journal­ Constitution, the law had no anti­-gay motivations, and if someone felt discriminated against, McKoon offered to contribute $100 dollars to a charity of that person's choice.
While North Carolina and Georgia aren't alone in their efforts to create policies on gender identity and transgender bathroom use, many states have taken the opposite viewpoint. Tennessee and Arkansas passed laws that prevent local governments from creating their own measures, ensuring bills like those in Georgia and North Carolina can't get passed.
New York City's mayor issued an executive order allowing people to use public restrooms based on their gender identity, and Philadelphia stated that private companies must display gender ­neutral signs on single­ occupancy bathrooms.
New Trier students tend to feel more sympathy for these liberal developments. Although she acknowledged the possible flaws brought up in the discussion of transgender bathroom use, Thabit said, "It's not like those little pictures with one wearing a skirt and one wearing pants is a top­ notch defense topic. If they're afraid of perverts or sexual harassment or whatever, they should think about that 'man' that is definitely not a man, and how she would be treated going into a men's room­­ or vice versa."
These issues have not only permeated the media, but have become integrated into students' thoughts. "It is clear," Zimmerman said, "no matter what your opinion is, the fight for LGBT+ rights is far from over."