Threat of school violence hits close to home
Incident at local junior high reinforces the need for safety precautions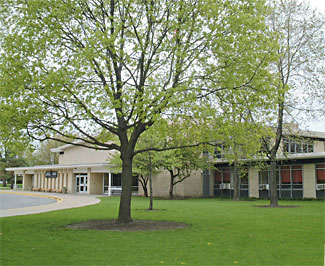 Hang on for a minute...we're trying to find some more stories you might like.
A WJHS student was taken into custody on Sept. 16 after being found of possessing firearms and explosives and is potentially facing charges, police said.
A police report confirmed the mother of the child found two handguns, a shotgun, and explosive matter. Before students arrived on Monday, the Cook County Bomb Unit thoroughly checked the school, which caused concern for parents and students.
Just a few days later, on Sept. 20, two students found a note on the back of a desk at Glenbrook South High School reading, "there will be a school shooting on Sept. 25, 2018."
The writer was identified and taken into custody. Although, the charges have not been disclosed, GBS Principal Lauren Fagel reiterated the stress of the situation and encouraged students to reach out for help to the Student Services Department.
The rise of school violence in the last year alone has reached an all-time high, averaging one school shooting per week, based on a CNN report.
Junior Claire Dillon commented on the WJHS incident, "Honestly, it wasn't the incident that surprised me because I feel it's so normalized in our country now. It wasn't surprising. It was sad."
The national epidemic has raised conversation among the student body and neighboring districts, considering two school shooting threats within close proximity of campus.
"They really emphasize safe spaces and are doing what they can to make sure we're protected," said junior Nick Kuras.
One WJHS student criticized the lack of communication concerning issues of student safety precautions, besides the basic procedures.
"It's frustrating that no one talks about what's going on. It's all speculation and gossip between students. Teachers haven't addressed the incident itself," said the student.
New Trier Assistant Principal for Student Programs and Operations Athena Arvanitis said that New Trier is changing to keep students and staff safe.
"Here at New Trier, we take security very seriously. Part of it is, if you think about what we've done specifically over the last one to two years, we've done a lot of things that are very visible to everybody who enters our building, implementing secure vestibules [and] having a stronger hold and management on our visitor check-in-check-out system," she said.
From a student perspective, junior Olivera Nikolich mentioned, "[Noticing] that teachers are talking about the issue much, much more. In every single one of my classes, I know where to go in case of an emergency. I've definitely noticed the locks on the door and there's a lot more security with making sure every visitor has an ID with a bright neon name tag."
Observing the advancing security measures the school has taken over the course of the last four years, senior Miles Goldberg noticed, "Teachers [wear] their IDs around their necks and every time you enter the building you have to show your ID."
Despite having the external basics of school safety covered, there's still space to question what we, as students, can do that will strengthen that sense of security.
According to Arvanitis, being able to distinguish the unwritten rule of not "snitching" and actually reporting a concerning comment or action, makes all the difference.
Junior Claire Dillon referenced red flags, for example, "someone who gets bullied [or] doesn't have very many people to talk to is where many problems start if you don't have good coping mechanisms."
According to Arvanitis, social media is "one way to tip off that something may not be going well. It can look like a lot of different things– it can look like a peer posting a picture of guns in their house or it can be a post that triggers something within you that makes you say 'that's really odd,' or 'I would never post something like that.' It's once you get to that place of concern that makes you feel something is not right."
New Trier has listed the Trevian Anonymous Tip Line on the school website, which allows students to disclose any suspicious behavior or concerns.
While tackling such a widespread issue is certainly difficult, Arvanitis stated, "As far as what you've heard about school safety, there are lots of different things out there, there isn't one solution, and if there was, we wouldn't be hearing about all of the incidents occurring."
While the country is still trying to make schools a safer place, thinking about how students can make a difference is crucial as well.
"The behavioral piece of [being] accepting and open" can help students. Even as simple as "saying 'hey' or sharing a smile in the hallway goes a long way."