North Shore restaurants innovating to keep business alive
In the wake of state-wide closures and cancellations to limit the spread of COVID-19, perhaps none have felt the economic impact more than the owners of local restaurants and businesses.Due to Governor JB Pritzker's orders that all restaurants in Illinois must close their doors to dine-in customers until March 30th, restaurants across the North Shore are facing an uncertain future. 
"I don't think there's anything worse that could happen to the restaurant industry," said Stefan Markov, executive chef at Valor Restaurant in Glencoe.
Valor is one of the many restaurants in the North Shore that have wor quickly create their own delivery services in order to accommodate the needs of the community. As of Wednesday, they have taken orders by phone or by email and will deliver to Glencoe and surrounding areas with a $5 extra fee.
Despite the scramble to create their own delivery operation, Markov stated that Valor's control over the pickup and delivery process has allowed them to go the extra mile to ensure customer's well-being.
"We have control over what comes from our kitchen to the customer's table. DoorDash doesn't implement things like that because they're a huge company, but as a small business, we can make sure to take those precautions," Markov said. 
Some of the delivery precautions which Valor has recently implemented include disclosing the name and most recent temperature of the staff member that delivers the order. They have also added a new "Comfort" menu for deliveries, in light of anxious times. 
Mino's Restaurant in Winnetka has also installed new delivery options for customers.
"We can do a no-contact delivery where we leave the food outside and take the credit card over the phone or a traditional delivery where they answer the door and sign the credit card slip," said Eric Fosse, owner of Mino's. 
Similar to Valor, Mino's manages its own delivery service and has found a surplus of demand in the North Shore for high-quality Italian food. 
"We just opened 20 minutes ago and we've gotten 5 deliveries already, and it's only the second day we've delivered," said Fosse, on the way to complete a no-contact delivery. 
Winnetka's Grateful Bites Pizza has been offering food delivery via DoorDash since it opened three years ago. However, they have recently adjusted their take-out to "curbside" pickups. Similar to the no-contact deliveries, curbside pickups minimize the time a customer spends in the building and in proximity with other people in accordance with "social distancing."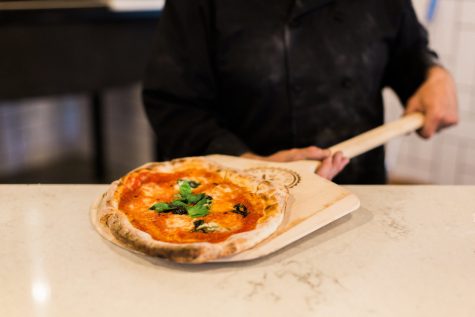 "We take your order, you give us your credit card, and when you pull up, you call and we get your food out to you," said Matt Halack, owner of Grateful Bites. 
Akira Sushi in Wilmette has also created a curbside pickup option for customers. Kelly Yang, co-owner of Akira, stressed the importance of community in difficult times as a reason for creating these new alternatives.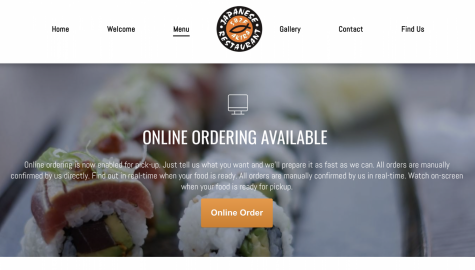 "We are doing a 10% discount off the entire deal for pickup orders because we want to fight the COVID-19 together. We are suffering too, and we need to stay together and fight together," said Yang.
Other businesses, such as Wild Child Toys located in Glencoe and Wilmette, are also placing emphasis on serving the North Shore as it battles COVID-19. Matt and Gretchen Miller, Glencoe residents and the owners of Wild Child, have established both delivery and curbside pickup options for their customers.
The Millers take the time to deliver their items as much as 20 times a day, despite not having many extra hands. "We have the help of an extra driver but in order to best protect our employees, and allow them to be with their families, Gretchen and I are handling the lion share of helping our community," Matt Miller said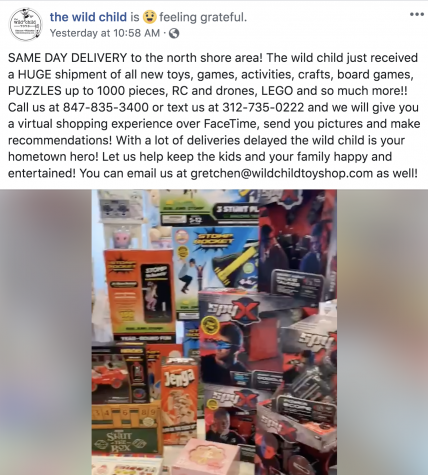 As toy-store owners, there is a special kind of joy for the pair in delivering their products.
"Today I was delivering birthday gifts to kids whose parties were canceled, deliveries of gifts between families as gestures of goodwill and love. It has been amazing to see the kindness in the hearts of our neighbors and community," Miller said.
Despite the confusion and ambivalence, several local restaurants and business owners had faith in the power of the community.
"I don't know what's going to happen, but the reality is we need to hang in together and stay healthy in body and mind, and many people on the North Shore may be afraid, but that's what I want to tell them," said Yang.
Miller also believed that in periods of difficulty, it is important for the North Shore to come together as a whole. 
"We are in this together, and together we can come through this stronger as communities, neighbors, and friends. Shop local and be kind to each other. We can do this!"