Kenilworth, Winnetka report highest rates of COVID-19 in northern suburban Cook County
Of the 125 suburban municipalities tracked by Cook County data, Kenilworth and Winnetka in New Trier Township have the 4th and 6th highest rates of COVID-19 cases as of Tuesday. 
The first, second, and third highest rates of COVID-19 in suburban Cook County are the Southern District municipalities Park Forest, East Hazel Crest, and Matteson. Kenilworth has a rate of 477.52 cases per 100,000 people, and Winnetka has a rate of 451.3, making them the two highest rates of COVID-19 in the Northern District of Cook County suburbs. 
It is unclear what is causing the wide variations of spread rates in neighboring suburbs. Village Manager of Kenilworth Patrick Brennan did not note a distinction between Kenilworth and other suburbs responses to the pandemic.
 "The response of our community to the Governor's call to make best efforts to minimize the spread of COVID-19 is very much like that of our neighboring villages," Brennan said.
Alan Goldberg, the Supervisor of the New Trier Township, suggested that Kenilworth's rate could be due to the size. Among a little over 2,500 people, Kenilworth has 12 cases.  
"[Kenilworth's rate] is surprising, but Kenilworth is very small, so to get a large percentage doesn't take that much," Goldberg said. 
The Wilmette Beacon has also reported that a parent of a preschooler at Kenilworth's A Joyful Noise preschool tested positive for COVID-19. The parent was reportedly in a classroom at the school on March 12th. 
Winnetka reports 55 cases of COVID-19 in a population of about 12,500 residents. It has only two cases less than Wilmette, which has a population twice the size of Winnetka of about 28,000 residents.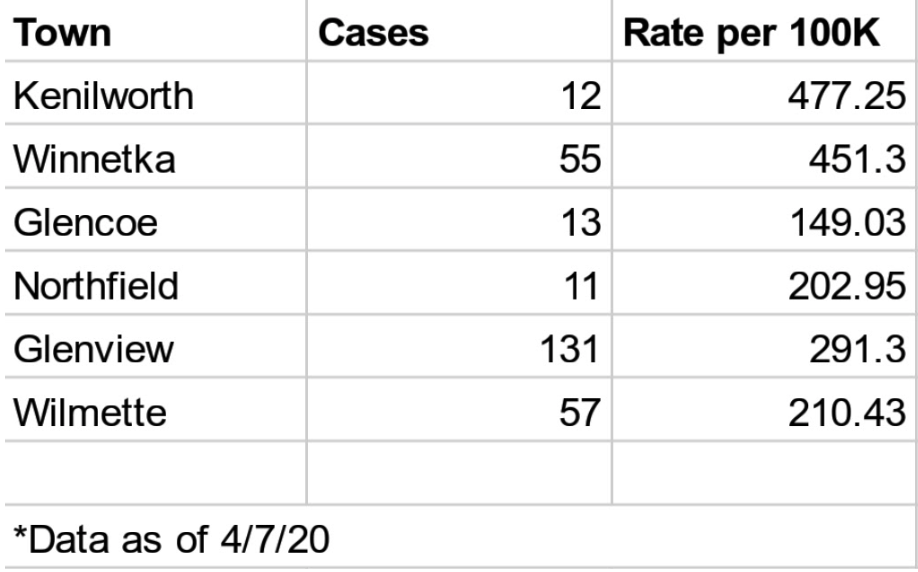 However, the other New Trier Township villages have relatively low rates, with Wilmette having a rate of 210.43, Glencoe's rate being 149.03, and Northfield detecting a rate of 202.95. 
Winnetka has implemented social distancing measures well, according to Robert Bahan, the Village Manager of Winnetka. 
"Winnetka Police have been actively monitoring public areas to ensure social distancing," stated Bahan. "Residents have generally been compliant and respectful of the Governor's order." 
However, Bahan did note that "access to health services testing and the number of people seeking testing will vary from community to community." 
Goldberg also stated that the Township's social service agencies are still striving to better communicate with each other. 
 "There's a lot of talk going on between the social service agencies to figure out how we can work better together. We've been pretty good at that, not great, but pretty good." 
Goldberg noted that the Township had a delay in response. 
"We probably took a little too long to close things down, it was a pretty drastic step and I understand that, but now we're trying to make do the best we can."