Staff hopes Ruvna screening app keeps virus in check
School turns to Ruvna to screen for COVID symptoms and track possible spread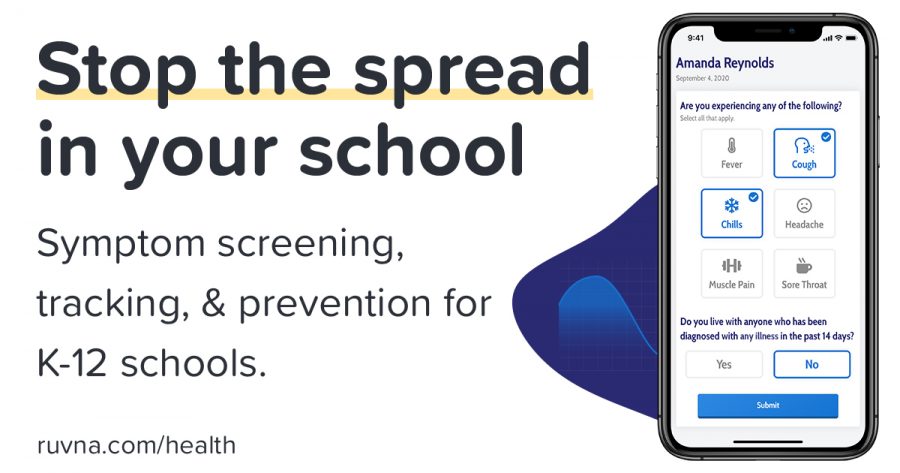 New Trier recently started using Ruvna health screening for students and staff coming on-campus, which the administration believes, along with social distancing and masks, will help create a low-risk learning environment. 
Ruvna Health, a program created specifically for schools in response to COVID, allows for screening symptoms and contact tracing to prevent cases. The app has been tested mainly by the athletic department since Sep. 8, as in-person practice began before in-person learning. 
"With athletics, we started off with using a Google survey. That's how we started in the summer to try and find out if someone was in contact or was sick or having some symptoms to try and keep everybody healthy and safe. And then Ruvna came along, which I think has been very helpful from my point of view," head athletic trainer Dale Grooms said. 
Ruvna requires a guardian to fill out a questionnaire every morning to screen for symptoms before students come to school, to prevent the possible spread COVID on campus. 
"Ruvna asks me if I have any symptoms like a headache, fever, chills, etc," senior and Varsity Football player Frankie Romeo said. "It takes me about 30 seconds to fill out." 
If a student is showing no symptoms, they receive a QR code. This code, or "golden ticket" as school nurse Anne Marie Ricchio described it, must be scanned before a student is allowed on campus. If a student-athlete is showing symptoms, he or she is instructed to call Grooms. Everyone else with symptoms calls health services. 
"If the parent calls us, the nurses will speak with the parents together about symptoms, travel and potential exposure to COVID-19," Ricchio said, "and will assist the families with next steps, including if a follow up with a provider is recommended or if a COVID test is going to be necessary or already in process, and what is needed for the student to return to school." 
According to Grooms, there were a couple cases of COVID over the summer and beginning of the school year, but the situations were handled well. Students or staff showing symptoms stayed home, and the school was able to track who they might have come into contact with through Ruvna. 
"[Ruvna] also helps us with contact tracing because it gives us when students sign in, because they're being scanned in with the timestamp, so it helps us see where students are, and when they signed in," Ricchio said. 
The Health Service Department has been satisfied with the program's ability to track symptoms and trace contacts, but the real test will come when students begin attending classes on campus Oct. 6. Along with social distancing and wearing masks, officials hope Ruvna will help create a safer environment for students to experience hands-on learning again.