After 82 years, the show must go on, even in the time of Covid
Facing challenges of social distancing, student producers adapted Lagniappe Potpourri to video, keeping the tradition alive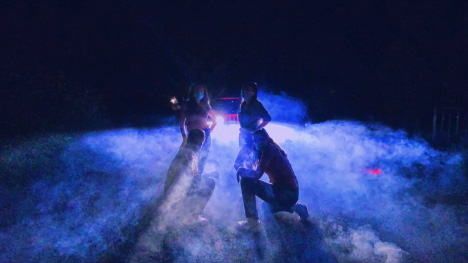 After 82 years, Lagniappe Potpourri went digital as students adapted the show from the stage to the YouTube screen. The pandemic forced this drastic change from the usual live stage show at the school's auditorium. 
Everything from rehearsal to communication and transportation, not to mention acting and singing, had to be planned differently. 
"
This year is so different, and it's unlike anything that's ever happened in the history of New Trier, and so we wanted to try and come up with something that encapsulated that"
— Katie Klaskin
This year's theme "From Scratch" was co-produced by Seniors Katie Klaskin and Isabel Mangum.
"This year is so different, and it's unlike anything that's ever happened in the history of New Trier, and so we wanted to try and come up with something that encapsulated that," Klaskin said. 
The Lagniappe board started making the show in April, taking taken 4-5 weeks longer than usual. They finished filming in September and edited until the release of the first installment on Sept. 27. The final installment was released on Oct. 8.
While making the show they took all the necessary precautions such as health screenings, keeping actors a minimum 6 feet apart, as well as keeping some students remote during production because of health conditions or potential exposure.
The change of venue also prompted changes for students on the crew. 
The head sponsor/mentor, Nina Lynn, said, "our stage crew had limited opportunities to build and paint scenery, hang and focus lights, mix sound, and complete cues."
But they did learn other valuable skills. They learned "how to edit audio and video and lighting for film as opposed to lighting for the big stage," Lynn said.
These restrictions posed complications throughout the project. 
"Rehearsing dance and music over Zoom is nearly impossible, you can't see the details of the movement and there is too much delay," Lynn said.  
Communication was a big change from previous years. 
"We are so used to just seeing people like, in the halls at school, and telling them like, something, and that obviously just isn't the case," Klaskin said. 
Students also filmed outside a lot and although it made scenes feel more realistic, it wasn't always easy to set up.
Stage manager, Senior Paige Sheridan, said that transportation was a bigger issue this year since previously everyone would meet in the Gaffney Auditorium where rehearsals and the performance were conducted. 
"But we had to figure out like, 'oh, we're gonna be filming at Skokie lagoons this day. Does everyone have a ride? How are we going to get stuff there?'"
But even with all the new problems the students faced "they demonstrated great resiliency in all kinds of ways," Lynn said. 
Lagniappe actors had mixed emotions about the change from stage to screen. 
Returning actress Junior Bella Friedman said, "I was definitely disappointed, but I was also excited to see what we could do with sort of this new way of telling the story and like experimenting with the virtual aspects."
A first time actor in Lagniappe, Sophomore Blake Beeler said, "Typically with a live audience they'll hype you up a lot," Beeler explained. "But doing it more like you're on a film set" was a "really nice" experience, he said.  
Lagniappe as a whole is quite a spectacle since all the writing and producing is done by the students, Sheridan said, and the students were proud that they were able to move from a live show to film with no previous experience. 
The release of this year's show left everyone at home and many said it was sad that the company wasn't able to be all together in person to witness it.
"It's sort of opening night tradition of everyone gathering backstage to wish each other well," said Lynn. 
But when it came to the night of the premiere not even a virus would stop this company from cheering each other on. 
"We had a massive text thread going [on] where we were applauding one another," Lynn explained, "So in a way we were able to cheer each other on in a really specific way that we would not have been able to do in a live performance."
This new style of producing Lagniappe Potpourri made the show possible under these circumstances, but for the future, Lynn said, "Honestly, I hope we never have to film the show again."
"Lagniappe Potpourri: From Scratch" is free to watch on the NT Soundtraks YouTube channel.