Wealth, social responsibility and global disasters
As COVID-19 ravages across the United States, celebrities and Fortune-500 executives are beginning to contribute money from their own funds and from the funds of their companies towards vaccine research and relief efforts. It's quite an uplifting thing to see. At a time like this, we need unity and solidarity more than ever. 
Wealthy people across the United States have been contributing millions, even billions, of dollars to research, relief, and to individual charities to help limit the effects of the pandemic.
And though I recognize that I have no real authority to tell people how to spend their money, in a country where the rich keep getting richer, shouldn't those at the top feel more socially responsible to contribute more of their own cash?
Twitter CEO Jack Dorsey has donated far and away the most generous amount towards coronavirus relief. Valued at a net worth of $3.6 billion, he announced days ago that he would be donating $1 billion towards relief. That's roughly 28% of his net worth. Additionally, Dorsey announced that the funds would be publicly tracked and would aim towards helping the future with things like women's health and education and a Universal Basic Income.
Of course, I'm not arguing that the wealthy should donate anything close to the percentage that Dorsey did. That would be unreasonable. 
Amazon CEO Jeff Bezos announced on Apr. 2 that he would be donating $100 million to Feeding America's COVID-19 Response Fund, an anti-hunger organization that supports the work carried out by over 200 food banks across the country. It's the largest donation Feeding America has ever received.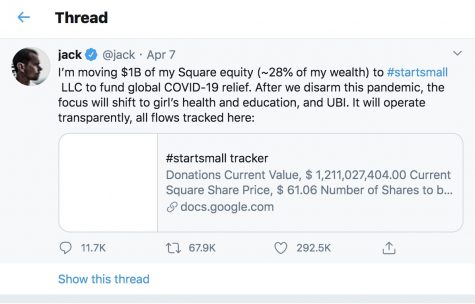 Some noted that Bezos, valued at $122.2 billion, donated just 0.08% of his estimated worth.
It should also be noted that Bezos pledged $10 billion just last month on climate change efforts. Bezos is a frequent donor to various global and national charities, so it's wonderful to see him pouring his earnings through Amazon back into helping others. 
Microsoft co-founder Bill Gates has made a generous donation as well. With a net worth of nearly $100 billion, Gates announced he would be donating $100 million to COVID-19 relief and would contribute "billions" to fund factories that will develop a vaccine to stop COVID-19. It's a vague announcement, but even $1 billion is a large one—1% of his net worth. 
It's a wonderful thing to see so many wealthy people putting others before themselves during a global crisis. It's inspirational. I feel compelled to donate myself. 
The bottom line is that money is desperately needed right now. The federal government is sending out stimulus checks, but $1,200 isn't sustainable for the amount of time our country will be out of commission, and many Americans don't qualify to receive the money anyway.  Americans of lesser means should consider chipping in money if they can afford to. And this should continue even after this virus passes. Hunger will still be a real problem. Americans will still be left without work. It is our job to help them, however we can. 
So how much is enough? There's obviously no threshold where you pass from selfish into generous, but I believe every celebrity and wealthy business owner or philanthropist should take a step back for a moment and seriously consider where their priorities are at. I believe that wealthy people should be responsible for redistributing money in times like these. I felt the same way when fires decimated Australia, when hurricanes destroyed Houston, and when earthquakes leveled Haiti. In times like these, the money of the wealthy is needed in other places, and it is the responsibility of those individuals to see the need and try to meet it.