Ukraine invasion provokes discussion among students
Students discuss war, share worries, make predictions
Despite being thousands of miles away from the conflict, students have recently felt compelled to discuss the war between Russia and Ukraine in classes, through social media, or in conversations with friends or family. For those with family and friends in the two countries, the war has affected them more than most.
Junior Vicky Voytovych's mom's side of the family lived in Ukrainian cities Kyiv and Kharkiv before relocating during Russian bombings. 
"
There has been so much support for people so all we can do is hope and pray that it will get better soon. "
— Volkova
"My grandma called me sometime last week and she was crying, talking fast. She started screaming, 'There's bombings, there's bombings,' and I even heard those bombings over the phone. I was so scared, I didn't know what to do or what to say."
Junior Henrik Weidemanis has followed the news of the war since the beginning. He says that the United States should feel obligated to send aid to Ukraine, but avoid military intervention. 
"It would be really difficult to convince the American public to get fully involved because there are a lot of people who'd think 'What's my stake in this?' or 'Why should I care about this at all?'" he said. 
Beyond ground war, information warfare has also played a large role in the conflict. Global hacker group 'Anonymous' declared a cyber war on Russia on Feb. 24, with a statement posted on their official Twitter account. Since then, Anonymous says it has taken down Russian state TV channels, broadcasting Ukrainian music and national symbols instead on air, and invalidated Russian propaganda websites and videos.
Junior Daria Volkova said she had a family member that had to leave Kyiv for Poland. She said it's hard for her because she doesn't know exactly what's going on, and no one is ever sure of what exactly is going on. 
"My mom works for an immigration law firm and they started a petition to get Ukrainians in the states under Temporary Protective Status which ensures that once people get here with visas, they can't be deported back because Ukraine has been declared as a zone that someone cannot return. That piece of [policy] was recently passed," said Volkova.
On March 3, the U.S. Department of Homeland Security issued an 18-month Temporary Protected Status program for Ukrainians, allowing them to apply for work permits and deportation protections. The Department cited the Russian attack and Ukrainian war zone as causes, and the Biden administration has shown willingness to further extend amity to Ukrainian migrants.  
"Russia's premeditated and unprovoked attack on Ukraine has resulted in an ongoing war, senseless violence, and Ukrainians forced to seek refuge in other countries," said Secretary of the Department of Homeland Security Alejandro N. Mayorkas. "In these extraordinary times, we will continue to offer our support and protection to Ukrainian nationals in the United States."
Ukraine and Russia both have utilized social media propaganda throughout the war. Ukraine's official Twitter account has posted memes and pushed hashtags such as #BoycottRussia and #StandWithUkraine.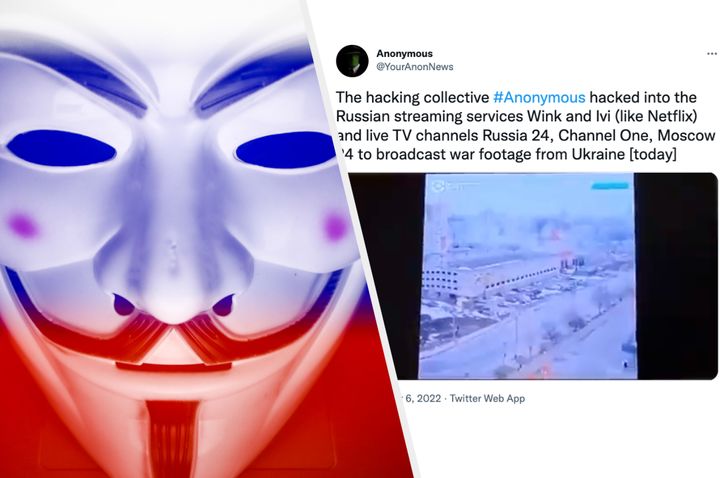 Two examples of Ukrainian propaganda that have been widely disputed are the Ghost of Kyiv and Snake Island. The Ghost of Kyiv is the nickname given to a disputed engine fighter credited with shooting down six Russian planes in the Kyiv offensive on 24 February 2022. Snake Island, which was captured by Russian forces in the first few days of war, rose to fame after Ukrainian guards on the island chose to curse at Russian forces instead of surrendering.

"There's things like the ghost of Kyiv and Snake Island. In my opinion, it doesn't matter if it's true or not because Ukraine needs something to look up to because they are being invaded by a country that is many times larger than them. They need something to unite them and rally them to the foreign aggressor," said Weidemanis. 
In Russia, many have protested the war, which has led to thousands of citizens arrested at anti-war protests. Part of the reason behind protests may be the declining economic capabilities of Russia due to sanctions from prominent trading partners across the world.
Volkova says being active and keeping an eye out for things is important, but it's also important to understand that you shouldn't feel guilty about not being able to be directly involved. 
"Sometimes when you hear about conflicts, it seems so far away. But hearing about how it directly affects people, it's hard. There has been so much support for people so all we can do is hope and pray that it will get better soon," she said. 
Volkova said no one knows how things will turn out, but she can only hope for the best since most people are helpless in this situation. 
"It feels really lonely. The day that I found out about the news, it felt like a normal day for everyone else. When I told some of my friends about my family's danger, their response was really insensitive," said Voytovych. 
The neighboring countries of Ukraine–Poland, Hungary, Slovakia, and Romania–have taken in hundreds of thousands of Ukrainian refugees in the past week. Voytovych hopes that her family can get to Romania and the U.S.
"As far as what people can do, pray if you're that kind of person, hope regardless of who you are, and put good energy out into the world to hope for peace," said Volkova.