New Trier girls tennis dominates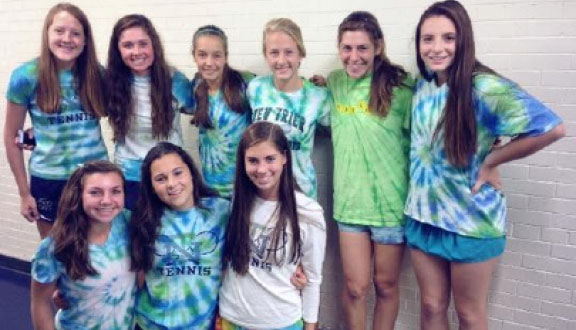 Last year's girl's tennis team finished third in state. This year, they look to do better. With eight players returning and 14 new players, chemistry is always a factor for the success of a team.
"I'd say we get along amazing well," said senior Amanda Newmark. "Especially since the team is made up of not only seniors, but juniors, sophomores and two freshmen."
The captains of this year's team are seniors Alex Wolcoff, Carol Finke, Lily Schroeder and Abby McCulloch.
"As captains, we try and lead by example. Working really hard at practice, bringing energy and enthusiasm to all team activities on and off the court, showing respect on the court to coaches, teammates and opponents. We try and make sure that practice is really worthwhile so it's fun and we are all improving," said senior captain Carol Finke.
"All four of our captains went down to state last year so they know what it takes to get there again," said senior Britney Schuldt. "We're letting the returning varsity players lead the way since they have the most experience."
This year's team is very competitive; not only with the opposition, but with their own teammates. "Being able to play against each other during practice and pregame warm-ups helps a lot. The girls on the team are some of the toughest opponents I have ever had the pleasure to play against. You can only improve by playing those who are better than you," said Newmark.
A lot of the players have been playing together since freshman year and some even play club together. "Out of season we all play with each other so it's not like we don't know each other's strengths and weaknesses; I would say it helps strengthen us because we can help improve each other," said Schuldt.
With the success of last year still fresh, Finke and the other captains need to make it a nonissue. "Each year, it's a new team with new players. We have high hopes each season because of New Trier's tradition, but we focus on one match at a time. And we focus on what we can control: our attitude and the effort we give," said Finke.
"Tennis is a mental game. From practice, tennis players learn to instinctually forget previous points and only concentrate on one point at a time," said Newmark. "You can't let a point, game or even a set influence your current point. Don't dwell on a lost point or celebrate a winning shot because the next point is just as important as the precious one."
"In tennis, being able to have emotions your emotions in check is a huge key to success. Having the team's support and them cheering you on can really help in matches," said Schuldt.
"We can't control how our opponents play but we can control how we prepare for each match. A bad day on the court just means we work harder the next day and try to learn from the day before," said Finke.
New Trier has beaten Deerfield, Glenbrook North and South, Waukegan and Highland Park in dual matches. The Trevians are 6-0 overall and 2-0 in conference play. In invites, New Trier finished third at the Deerfield Invite and fifth at the Downers Grove Invite.