Girls volleyball places third at state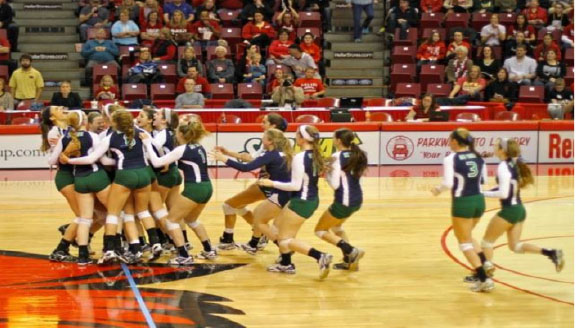 The New Trier girls volleyball team won third place after a successful and tough season, ending with a 31-4 record. Senior co-captain Taylor Tashima said, "we put in the hours of training and conditioning in the off season, and it really showed in all we were able to accomplish this season."
After winning the Summer's End tournament this year at the beginning of the season for the fourth year in a row, the Trevians had a strong start to their season. The team was undefeated this year until they played Glenbrook South on September 26, with a 1-2 set loss at home. Junior Sarah Shafiq said, "this year we didn't have one set rival. We viewed every game as the State Championship game. The team tried hard to dedicate themselves 100 percent to what was happening in the next game that we had and we would try not to look that far ahead, just try to focus on each game individually."
This year, the Trevians were always looking towards State. In the program's history, the volleyball team has only been to State three times two of which were the past two consecutive years. The Trevians lost in the semi-finals to one of the best volleyball teams in the state, Mother McAuley, who ended up taking first place in state this year and who won State last year as well.
Still, the team looked forward to playing Crystal Lake South in the third place game. "To walk away at the end of your senior season with a win is a great feeling. We came back after losing in the semi-finals the night before," said Tashima. Shafiq later added, "We had the mind-set of going onto the court and giving all we had, and we did just that." The Trevs lost the first set, but came back, winning the final two sets.
"Overall, I think that we had a great season. We got third in State, and this year we just tried to focus on one match at a time and try to progress in each game that we had this year," said Head Coach Hannah Hsieh. Next year, the team will lose vital members. Hsieh said, "We are graduating ten seniors and we are losing a lot of height this year so we are going to have to rework our offense and make some changes."
Shafiq said, "We believe that the team is going to be equally talented and dedicated as this year. All we have to do is keep on improving and pushing each other to stay focused next year." Tashima is confident that her team will continue to succeed in the future.
"I think the volleyball team will come back strong next year; there are several players who had significant playing time this past season. They will have a younger team next year, but there are a lot of talented girls coming up from JV, who will train very hard during their club season to make the team better," added Tashima.