Sportlight: Andrew Textor
Twelve strikes in a row – it was a perfect game that made the New Trier Varsity Boys' Bowling Team ecstatic.  One might not think it was possible, but senior Andrew Textor bowled a score of 300 at a game against Libertyville on December 5th.  His success did not come without commitment to practice, tenacity, and supportive friends, coaches, and family.
Textor began bowling during his freshman year.  One of his friends decided to try out for the team.  Intrigued, he tagged along.  He automatically made the team; coaches saw his potential and began to help him hone his abilities when the season started.
To keep up with the season, Textor practices for an hour and a half for four days a week, and he plays once a week in a noncompetitive league outside of school.
With this newfound inspiration, he took lessons from a left-handed bowler, Rich Blake, at a local bowling alley and learned to recognize the ways to refine his own form.  As he continued to improve his technique, he subbed for a few varsity players during sophomore year.  By his junior year, he made the varsity bowling team.
Now a senior, Textor constantly strives to achieve higher scores.  "I always try to do my best and get the best possible score that I can, or improve on what I am having trouble with," he said.  His main focus is to isolate his actions in order to throw consistent strikes, which certainly paid off in the results of his perfect score on December 5.
Although bowling seems to be an individual sport, a lot of it is a contributive effort to achieve the highest number of total pins knocked down to win a game. Textor shared that he enjoys the team dynamic while still focusing on self-improvement:  "Whenever someone is bowling, the team will cheer them on, giving them confidence to do better. And whenever someone does really well, they are helping out the [team's overall score]."
This year, five members of New Trier Varsity Bowling made it to IHSA State Boys Bowling Championships, including Textor.  The team qualified at their sectionals with a total score of 5,926 points, 1,200 of which Textor contributed.  He advanced to the state tournament (for individuals – the best bowlers in the state – not a team event) held on January 31.
The team played six games on the first day of a two-day championship.  Although the team did not score high enough to advance, Textor did as an individual, placing 49th.  He then moved on to the second-day matches.  He ended up in 19th place overall for the state championship out of all the members on twenty-four qualifying teams. He had an average score of 218.9 points for a total of twelve games.
Many surrounding schools do not sponsor a bowling program, Textor noted.  "It's really great that New Trier has a bowling team.  A lot of other schools don't, but it's starting to gain popularity again."
Textor's coaches have guided him through training, and he takes full advantage of their teachings.  Varsity Bowling Team Coach Scott Durkin praised him, saying, "Andrew stands out as a great competitor and leader of the bowling team because he works hard, practices often, and is a student of the game. He is always trying to improve and learn more."
Textor owes much of the motivation behind his success to his friends. He credits them as the impetus for his joining the team in the first place.  Also involved in his accomplishments are his supportive parents.  "They always come to every game," Textor beamed.
About the Contributor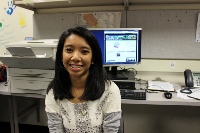 Sarah Wong, Online Editor
Sarah Wong is the Co-Editor in Chief of the Online News. She works with Sam to upload articles, pictures, and other interesting content. She's really...