Girls Water Polo goes to State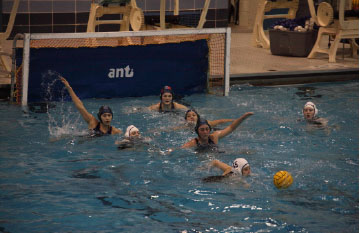 After being plagued by injuries, the New Trier girl's water polo team made it to the 2014 state championship at Stevenson high school.
This year's varsity season consisted of four seniors, six juniors, and two sophomores. Halfway through the season, the team had lost four starting players due to shoulder injuries, but they were lucky enough to return for the sectional and state championship games.
New Trier accomplished a season-long goal by beating Loyola 6-5 in the sectional game. The game was tightly contested throughout. Loyola lead after the first quarter, but the Trevians would came back when senior Jacqueline Glattard scored the game-winning goal scored in fourth quarter. New Trier then went on to win the conference and sectional tournaments, a feat they didn't achieve last year.
This was also the first year girls water polo had made it to state since 2012, when they placed 4th overall
The team first played Stevenson high school Friday May 23, and lost 13-2. Although the Trevians didn't reach the semi-finals, they finished 7 out of 8 teams in state, a huge improvement after being ranked 18 at the start of season. This year's state champion, Fenwick, had been ranked a top IL-polo teams for years.
The Trevians have a positive outlook for next year and strong  lineup. Reaching state again seems likely, and remains a goal for the Trevians.