Tennis gets Third in State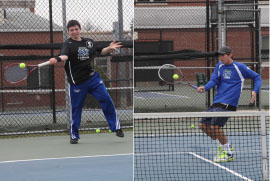 The New Trier Tennis team finished another successful season earning 3rd at the state tournament.  With a talented, young team, expectations were high going into the 2014 season.  As freshman, New Trier doubles partners Tom and Scott Bickel made their way to the IHSA state tournament where they advanced all the way to the seventh round of the consolation bracket. The duo finished 4-2 at the state tournament in 2013.
With this kind of success at such a young age, the high expectations
were only fair.  New Trier Tennis head coach Tad Eckert said he calls the Bickel twins "Bickers" because of their tendency to argue during matches. Although they argue frequently while on the court, their method works. While the entire New Trier Tennis program is excited for the duo's potential, there are many more skilled varsity players.
Entering the 2014 season, New Trier Senior Alex Galoustian had advanced to the ISHA state finals for two consecutive years and his eyes were set on a state title for the season. Last year  Galoustian advanced to the state semi-finals before eventually losing.
During the 2014 regular season, the team's number one goal was to defend their CSL South Conference Championship. Their fiercest competitor was GBS; however, the Trevians  beat GBS en route to a repeat conference championship, thanks to the help of juniors Corey Schwartz, Adam Jacobs, Colin  Deveny, and Gilly Fitzgerald.
After accomplishing goal number one, New Trier had their eyes set on a state championship. Their biggest competition was Lake Forest and Hinsdale Central. New Trier eventually finished third in the states top meet. Although this was not the place the Trevians had hoped for, the third place finish was impressive nonetheless.