NT's expectations high for Maine South
With wins over Niles North and Deerfield, New Trier continued its best start since 1996 and remained undefeated in the process.
On Sept. 13, the Trevians hosted conference rival Niles North (2-1) for Senior Night.
Typically later in the season, Senior Night fell unusually early, yet another example of how new head coach Brian Doll has made his mark on the football program.
New Trier cruised to a 34-6 victory over the Vikings. Dealing with cold and wet conditions throughout the evening, sophomore quarterback Clayton Czyzynski looked very comfortable, throwing for a pair of touchdowns and adding a score on the ground.
Senior running back Kevin Mulhern ran for 130 yards on 18 carries, and senior tight end/defensive end Andrew Hauser blocked a field goal, caught a touchdown pass, and recorded a sack. Despite the convincing victory, the Trevians still found room for improvement.
"It's fair to say we were sloppy at times," said senior receiver Michael Miller. "We weren't satisfied with the way we played in the beginning, but we finished."
Senior running back Caleb Roth agreed.
"We were a bit sloppy but we cleaned it up early and were able to beat them pretty bad."
New Trier was able to make up for those mistakes against Deerfield (1-3) the following week. The game started slowly for the Trevians after Deerfield blocked a field goal attempt on New Trier's opening drive.
The Warriors marched down the field and capped off a seven-play drive with a 6-yard touchdown run.
"Not scoring on the opening drive after the long return by Miller was a huge change in momentum said Doll. "We faced adversity and shut down their offense, and our players and staff learned how we can come back from setbacks."
After scoring on their first possession, the Warriors couldn't establish any rhythm on offense and struggled to put together drives.
"We had a slow start against Deerfield but our coaches made great adjustments after their first drive," said Miller.
New Trier found the end zone for the first time on a 21-yard run from Mulhern in the second quarter. After failing to score and falling behind 7-0 in the first quarter, New Trier scored 22 second-quarter points.
Mulhern was responsible for a bulk of the team's offense, rushing for 130 yards and three touchdowns. His last touchdown put an exclamation point on the game as he broke a 45-yard run for the score.
It was another efficient game for Czyzynski, who capped off the night with a 48-yard touchdown strike to junior Colin Casas.
New Trier will be looking to continue their best start since 1996 on Sept. 27 on the road against Waukegan.
"They are a tough team with a lot of strong athletes," said Doll.
It's hard for New Trier to not look ahead, as an Oct. 2 matchup at powerhouse Maine South (3-0) is looming large. The Hawks have won five state championships since 1995 and have several returning starters from a team that advanced to the Class 8A quarterfinals last season.
New Trier is not lacking in confidence, and if this season is any indication, it will be a fiery matchup.
About the Writer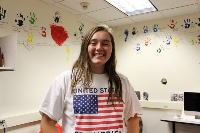 Danni LeServe, Sports Editor
Danni LeServe is one of the sports editors this year. This year she will be reporting on sports at New Trier. She likes to play sports and she is on the...