A history of Gates Gym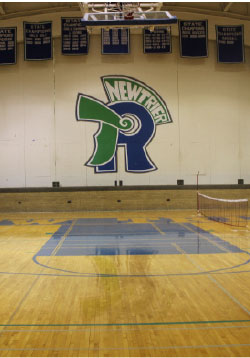 The Gates Gym has seen its fair share of history; 87 years of it, to be precise.
Home to countless basketball games, K.W. badminton tournaments, pep assemblies, and even graduations, the historic gym has become the center of the New Trier Athletic Department.
"The Gates Gym has lots of tradition," said head girls basketball coach Teri Rodgers. "Hundreds of games have been played here and thousands of kids have taken part in those games. Walking out on to the court, you can imagine kids playing here 50 years ago. It has a history."
The Gates Gym is named for Leslie Freeman Gates, a former school board member who spent nine years of her life serving New Trier, until his death in 1928.
Construction on the Gates Gym was completed in 1928, costing $675, 000, according to the 1929 yearbook.
"The Gates Gym is unique in terms of age. They don't make gyms like that anymore," said Rodgers.
For many years the Gates Gym was only used for boys. According to John Gilchrist, Kinetic Wellness department chair, K.W. classes were separated by gender at one point.
"The boys would get the larger gyms, like the Gates Gym," said Gilchrist. "The girls had the smaller gyms, including the Stage Gym."
The Gates Gym also served as the location of the seniors' graduation.
"[New Trier] would have a split graduation in the Gates Gym, until the graduation classes got too large," said Gilchrist.
With the gym's age, however, comes frequent maintenance. In 2008, when New Trier wanted to renovate the East Campus (which outlined a replacement of the Gates Gym with a new, modernized facility) it cited the Gates Gym's upkeep and size as a reason to build a new gym.
Steve Linke, Faculties Manager, explained the maintenance complications.
"Mechanically, [the Gates Gym], it's a toss-up. The plumbing and heating are harder to maintain than the other gyms because of age."
The Gates Gym can also no longer accommodate the size of the crowd at certain New Trier sporting events.
"The basketball games against Evanston can no longer be held in the Gates Gym because it doesn't accommodate the size of the crowd at the big rivalry games," said Gilchrist.
The 2008 proposal to build a new athletic facility at the East Campus never passed partly because many in the community were against tearing down the Gates Gym.
"It would be a shame to renovate the Gates Gym," said Rodgers. "I understand they need to improve the gym, but they shouldn't destroy the gym's history."
"From a purely 'maintenance' point of view, I would say that the Gates is worth the minimal extra effort," said Linke. "But from a program and educational standpoint the answer would likely be different."
Despite the gym's age and lack of modernized technology, many still strongly believe that the Gates Gym is an essential part of New Trier.
"The Gates Gym is a staple here at New Trier," said Gilchrist. "Those who graduated a long time ago come back and see that the Gym is still here. The Gates Gym brings back memories of their high school career."