Student athletes leave early to start preseason training
Summer cut short for athletes to promote team building and start training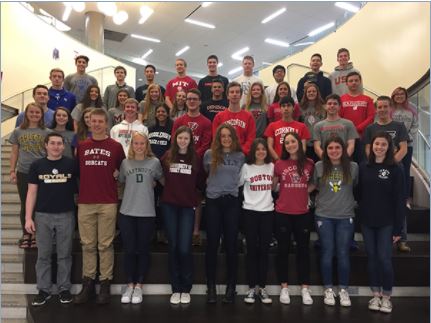 With many athletes from the senior class of 2017 playing sports in college, the fall athletes will be leaving for college early to train and practice with their team over the summer.
Leaving early for college can be nerve wracking for many athletes, especially if they are the first of their friends to leave and if they are anxious about handling both academics and athletics during this life change.
Rising college sophomore and volleyball player at Harvard University and New Trier Alum, Isabelle Tashima, said, "While it was tough being one of the first of my friends to leave, it allowed me to have a smoother transition into college because there were only a few other teams on campus during preseason, so I was able to get acquainted with the campus and dorm life before the rest of the student body arrived."
Rising college senior and football player at Dayton University and New Trier Alum, Michael Sernus, agreed with Tashima.
"By the time all the other students arrived, I had already established a solid friend group, moved in easily, and gotten a good understanding of where everything is on campus."
Current NT senior Avery Schuldt is leaving Aug. 11 for soccer training at Dartmouth University, but classes won't start for her until Sept. 11. She will be able to move in more easily, like Sernus and Tashima did.
She said, "I will be staying in the dorm I am assigned to the whole year. So I will get there before my roommate and everyone in the dorm. I'll basically have the whole dorm building to myself."
Senior Caroline Ross will be playing field hockey at Johns Hopkins in the fall. Ross will leave to move into her dorm on Aug. 17 for preseason. Unlike Schuldt, Ross will be staying in an athletic dorm for all the athletes during her freshman year.
"I'm excited to be leaving early because it will be fun to connect with the team before everyone else gets to school, and there will also be other athletes that come early so it will be cool to get to know them as well," said Ross.
However, moving to these schools early doesn't take away the stress for the normal move-in most students anticipate.
Many athletes get to move in with a smaller population of students than they will be living with for the entirety of the year, but it is still the college experience, being tossed into a foreign environment.
"Freshman year, it was kinda tough because I was still meeting a ton of new guys on the football team and everything, but once camp was over, I pretty much was friends with the same guys I am now," Sernus said.
Tashima also reviewed her training positively, saying, "I definitely don't think I missed out on any part of a 'stereotypical college experience' by being an athlete in college. Being a member of the volleyball team at Harvard was a huge reason why my freshman year was so outstanding."
Rising senior at University of Virginia and New Trier Alum, Haley Fauntleroy also left early for training her freshman year of college. Fauntleroy left for UVA just after Fourth of July, and stayed until her winter break.
Fauntleroy said, "I was not happy to leave early but I think it was a super positive experience looking back. I was able to become close with my team, know the campus, and learn what it was like to be an UVA student before everyone else."
Fauntleroy had also been able to receive six credits while at UVA her summer before Freshman year, helping her transition more smoothly into both a student and athlete in a smaller population.
By the time all the other students were moving, Fauntleroy said, "I had made friends, knew where my classes were, and had a lay of the land that first week of classes when everyone else was freaking out."