Tadelman places second at World Wrestling competition
Teacher wins three bouts, loses to former world champ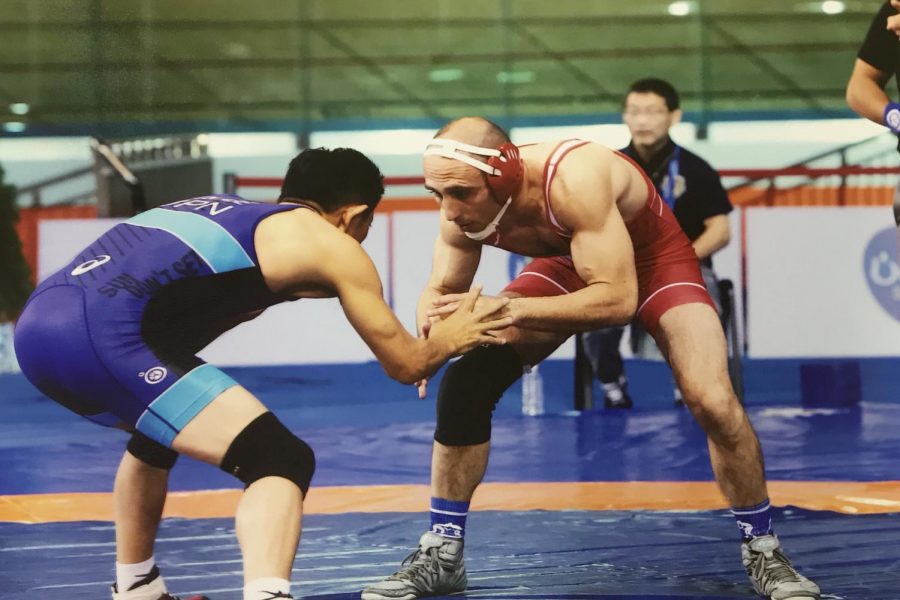 On Oct. 14, New Trier varsity wrestling coach Marc Tadelman got second place in the world wrestling competition. The competition took place in Plovdiv, Bulgaria.
"It was a sixteen man bracket and I was lucky enough to draw a by first round," said Tadelman.
"I faced three opponents. The first round I faced Japan, who I pinned. In the semi-finals I faced Bulgaria and I won 5-2. In the finals I faced a former world champion and I lost 7-4."
The United States teaches two forms of wrestling in the competition, Greco-Roman and freestyle. Tadelman has been wrestling freestyle since a young age. In the world championships he used different moves including the headlock and the fireman carry against his opponents.
"I've luckily been able to train and work for so long so it was rewarding to go this far and represent my country and New Trier while doing it," he said.
The impressive run by Tadelman follows two years of early exits.
"I went to Athens, Greece in 2015 and Poland last year and struggled in my match. This teaches the guys here perseverance."
As the varsity coach, Tadelman teaches perseverance and that wrestling doesn't just end after high school or college.
"I can show kids that I did both of these and pass the lessons onto them. Hopefully they can apply these not only to wrestling but to life to," said Tadelman.
There were over 100 countries represented at the tournament. The countries ranged from South Africa and Mongolia to Germany and England.
Tadelman said that the competition depends on how many people each country has.
"The United States team that I was on had 26 people so we competed in several different categories."
The tournament was split into several different weight classes, Tadelman wrestled in the 130 pound class. There were 16 people in his weight class.
"It was such an amazing opportunity to participate in these games. I want to thank New Trier for letting me do this continually every year and for giving me the opportunity," Tadelman said.
According to Tadelman the turnaround was fast. "I got there, trained, went to bed, competed the next day, and then flew out the day after."
"I don't really get to travel much, especially around the world, but this opportunity was amazing even if it was only for a few days."
Along with being the varsity wrestling coach, Tadelman is also is a Kinetic Wellness teacher, adviser, and a sponsor for the cancer prevention club.
He has been working at New Trier for 10 years and has coached wrestling for 20 years. He hopes to continue coaching wrestling and teaching athletes for many years to come.
"Getting to the podium, and receiving the medal, with the national anthem playing in the background was an amazing feeling and one that can't be replicated."