Volleyball bumped out by Lake Central
Varsity eliminated at supersectionals after strong regular season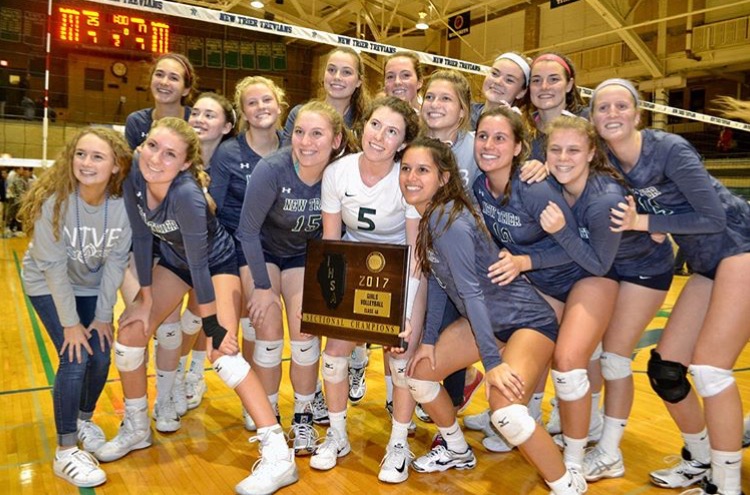 The volleyball team took on Crystal Lake Central in the supersectional game at Lake Zurich on Nov. 3, playing strong defensively but losing 25-22 in the first set and 25-21 in the second.
Head coach Hannah Hsieh said that the team expected a difficult match before the game.
"We knew this was going to be tough. We had a game plan based on our scouting and the girls played well," said Hsieh.
Last Friday's match brought the volleyball team's three-month long season to an end. Junior Lexy Hochschild, who didn't play this season due to a shoulder injury, said the team felt devastated after the loss.
"Every girl played so incredibly well and worked for every point. The game could've gone either way, and it's hard to admit that Crystal Lake was better than us that day," said Hochschild.
The girls focused on maintaining a strong defensive approach against their opponents.
"We traded point for point, kill for kill, and played one of our best defensive games of the season," added Hsieh.
According to Hsieh, there was never more than a 2-3 point gap for either team, which is indicative of a competitive performance on both sides.
One player who was pivotal to this defense was senior libero Julia Maisel. Senior Julianna Bozzo mentioned how "she played so hard in defense and got up so many short tips and hard driven hits. There were hits from the other team that we were sure were going to be kills, but she somehow dug them up and it was amazing."
Both Bozzo and Maisel are co-captains of the team and focused on making sure the team worked well together.
Regarding her own performance, Maisel noted that she was proud of how she played but thought she could've received Crystal Lake's serves better.
Senior Olivia Burnside, a middle and right side hitter, clarified that the team's defensive efforts were what made the match so competitive.
"Everyone played really well and the game wouldn't have been as close without everyone's contributions. Crystal Lake also had a very aggressive offense, so our defense pushed themselves extra hard to chase after the balls.
Burnside added that the team appreciated the fans that consistently showed up to the games.
"Our friends and the younger volleyball players were especially great this year at coming out to games, no matter the distance."
In addition to a strong defense and support from the sidelines, the team was strengthened by having varsity experience from past years. The lineup this year had 9 varsity returners, a larger amount than last year's 4.
Bozzo explained that the team improved compared to last year and was more balanced, a contrast to other schools.
"Last year we lost in the regional finals, but making it this year all the way to supersectionals shows our improvement both in skill and in mental toughness."
"I think we were well rounded. Other teams had one or two amazing players who carried their team but we had a lot of talented players and there was always another good player to sub in," said Bozzo.
The team had just come out of their sectional finals against Hersey at the Winnetka campus on Nov. 1, where they won 2-1 in the last two sets.
The sectional finals had sixteen teams vying for the state title, leading into supersectionals, where the number is cut to eight teams.
Despite the disappointing result of the supersectional game, Hsieh recognized the team's many accomplishments. "It is always tough to end a season, but the girls can hold their heads up high, because they fought, and truly created a great and memorable season for themselves."