Girls volleyball drops rematch with Loyola
Long Runs Doom Trevians In Two Set Loss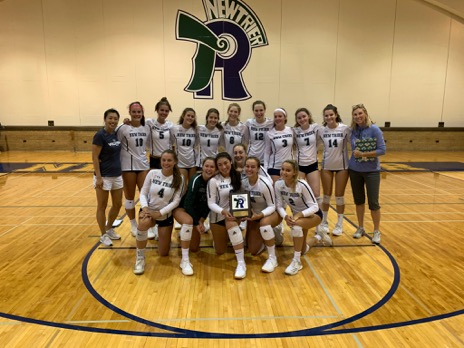 The varsity girls volleyball team was defeated 25-16 and 25-12 by the Loyola Ramblers on Sept. 11 at Gates Gym, dropping the team's record to 6-3.
The game was a rematch after New Trier's victory over the Ramblers in the Summer's End Tournament final on Sept. 7, which put the team in the unique situation of facing the same opponent for the second consecutive game.
However, playing the Ramblers for a second time in five days worked against the Trevians.
"Our goal was to find vulnerable areas in their game that we could expose. However, they did the same and ultimately targeted us in a way that made it difficult to adjust," said senior Nikki Schmidt.
The adjustments made against the Trevians were apparent in both sets as they struggled to respond to a pair of backbreaking Loyola runs.
After playing to an 11-8 deficit in the first set, the Trevians surrendered 12 of the next 13 points which ultimately put the set out of reach, and despite being down by just two points in the second set, the Trevians were outscored 15-4 in the final 19 points.
"We didn't want to be predictable—so we changed up our lineup to try and put new people against each other at the net. We also set our blocks up so they would have to hit different shots than they did last game," said senior Lulu McShane. "However, Loyola did a fantastic job at adjusting to our lineup, and they played amazingly."
The dry-spells that the Trevians experienced were also due to uncharacteristic offensive struggles.
Senior Cat Flood led the team with seven kills, followed by fellow senior Maggie Bodman with three, but the team could never string together a run that could match Loyola's offensive onslaught.
"Everyone works so hard as individuals, and normally it shows on the court," said Flood. "Everyone is always there physically, but volleyball is basically all mental, and that is something we really struggle with."
Despite flashing potential at times during the game, the Trevians' inability to sustain their high level of play was what ultimately led to the loss. The team's struggles with consistency and keeping their composure are precisely what they want to improve upon going forward.
"We need to work on being consistent within all areas of our game," said Schmidt. "The team with the fewest unforced errors is the team that is going to come out on top, so we need to keep our own error count low in order to win."
Becoming more consistent could pay major dividends for the team considering they have already shown their potential in victories over quality opponents.
In the final two rounds of the Summer's End Tournament, the team defeated an Oak Park River Forest team loaded with future Division I volleyball players before their aforementioned victory over the Ramblers.
"This team is a very talented group, and we have a lot of options in terms of being able to generate offense from all different positions," said head coach Hannah Hsieh. "And [the players] are incredibly hardworking; they are a great group to work with."
With the postseason still over a month away, the team will have plenty of time to gel and continue to gain experience against quality opponents.
They have two match-ups against conference opponent Glenbrook South and will be competing in the prestigious Mother McAuley Tournament during the first weekend of October.
"We lost a big part of our starting lineup from last year, so there are a lot of learning opportunities for the girls taking over those roles. My hope for us is to keep getting better with every opportunity, so we can use our talent to meet our full potential," said Schmidt.
Despite the loss to Loyola, the team still has their sights set on another deep postseason run and a trip to Normal for the state finals.
"As a team we have set quite a few goals; our first being undefeated in conference and making it down state. Before that, we want to focus on the mental game, our defensive capabilities, maintaining a 2.0 serve receive average per game, and have few serving errors," said Flood. "With that all in order, we should come out as being a top team in our conference as well as the state."