Cheerleading impresses at invites
Team finishes 5th at ICCA championship, 14th at Buffalo Grove invite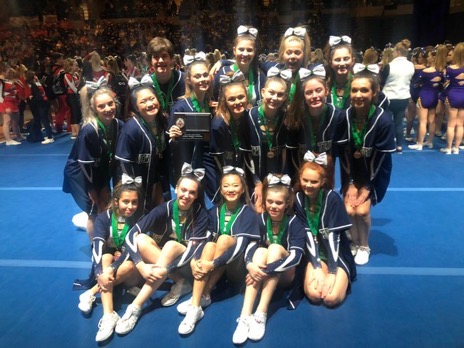 New Trier's Cheerleading team had strong finishes in two different, high energy competitions last weekend
On Jan. 11th, the team traveled to Springfield for the Illinois Cheerleading Coaches Association championship (ICCA). This competition drew schools from across the state, Saturday alone held 64 teams.
The team finished 5th in their category, an accomplishment which Head Coach Kelsey O'Kane viewed as a major step forward for the team.
"Every competition is an opportunity to improve our skills and increase our score. We use a growth mindset to set the standard for each performance and try to get better each time," said O'Kane.
Junior Eisiel Hirchel was especially proud of the team. Compared to a poor finish last year, the 5th place finish reflected how the team has grown from the mistakes of last year.
"I feel extremely happy with placing 5th at ICCA. Last year at this competition we scored a lot lower so it was a great feeling to beat a few teams. It was a bit expected because we have grown so much as a team with our skills. I think everyone was overall very satisfied," said Hirschel.
This competition showed the team that hard work pays off. Qualifying for the ICCA is not easy and requires a lot of perseverance, but the team put in the work necessary.
"Qualifying for that competition requires focus and dedication from the very beginning of the season and gives us a short term goal before we prepare for sectionals," said O'Kane.
On Jan. 12, the team returned home to compete at Buffalo Grove. This invite was made up of a lot of the teams they will see later at the Central Suburban Conference.
Again, Hirschel was happy with the performance of the team despite being tired from the day before.
"Buffalo Grove went pretty well. We hit almost all of our stunts, and we ended up placing 14th out of 22," said Hirschel.
The team was able to pull off this success despite some major setbacks. Cheerleading is a team sport, so if one member is missing they will often have to rework the entire routine.
"A few people were sick and could not compete so we had to make a lot of last minute changes but we were able to make it work and still ended up doing really well," said Fehle.
Leading up to this weekend, the team put in many hours of practice and preparation. The team practices everyday and has a busy competition season. Fehle laid out the schedule for the rest of the week.
"Over the weekend we had ICCA and Buffalo Grove, our CSL conference is Thursday, and we have another competition at Niles West on Sunday," said Fehle.
The competition season stretches from May to February. It is not easy on the team but O'Kane is very satisfied with the work the team has put in despite how grueling it can be.
"[It's] a really long season, with the same people, the same coaches and the same mindset. The team continues to get better and better each year. And I couldn't be more proud to be their coach,"
Having to perform at such a high intensity two days in a row was exhausting for the team. But a lot of work goes into these competitions.
They can take a lot out of the team because they can take all day and are often far from home.
"Even though we only perform for 3 minutes, competitions take all day because we have to get ready, get to the comp and then we have warm ups and after we compete we have awards," said Fehle.
The preparation alone is difficult. The whole team must dress in uniform and look like one. Bus rides are spent teasing hair, applying makeup, and mentally preparing.
"We have to tease our hair in a high ponytail and do a full face of makeup for each competition which is pretty time consuming, but definitely worth it,"said Hirschel.
The team is continuing to grow and learn. Every year the team performs better and better. They are all excited to see how the season moves forward.
"We are scoring far higher than we did last year and we are really pulling through as a team. This year has definitely been amazing and we are only going to get better as the season continues," said Hirschel.