Daryl Morey controversy revealing of NBA's priorities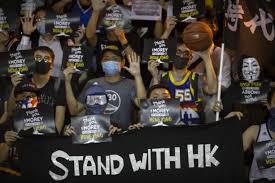 On Oct. 4, 2019, Houston Rockets General Manager Daryl Morey unexpectedly triggered an international controversy when he tweeted "Fight for Freedom, Stand with Hong Kong."
For context, last spring, Hong Kong's pro-Beijing government leaders introduced legislation that would have allowed for criminal suspects to be extradited to mainland China.
In the months since the legislation was enacted, the semi- autonomous Hong Kong has been embroiled with massive anti-China protests.
In light of these ongoing protests, Chinese insitutions and political figures were outraged by Morey's tweet.
Within two days of the tweet, the Chinese Basketball Association announced that it was suspending all relations with the Rockets.
Soon after, the Chinese consulate in Houston released a statement saying that it was "deeply shocked" by Morey's "erroneous comments," and Chinese state-run television halted all broadcasts of NBA games.
For the NBA, China's harsh reaction to Morey's tweet was an unmitigated disaster. According to Forbes, the league's business in China is worth about $4 billion annually.
The Rockets, in particular, will financially suffer as a result of this situation. The success that Hall of Fame center Yao Ming enjoyed as a member of the team contributed to the formation of a massive Rockets fanbase in China, a fanbase that will now be barred from following and associating with Morey's team.
On Oct. 6, NBA Commissioner Adam Silver made a statement that attempted to diffuse the situation. "We recognize that the views expressed by Houston Rockets general manager Daryl Morey have deeply offended many of our friends and fans in China, which is regrettable," read the NBA's official statement on the situation.
"While Daryl has made it clear that his tweet does not represent the Rockets or the NBA, the values of the league support individuals' educating themselves and sharing their views on matters important to them."
In hopes of salvaging their standing in China, the NBA attempted to both support Morey and apologize for his tweet with this statement. In the end, though, walking such a fine line proved impossible.
Many in the United States were incensed that the NBA prioritized their financial interest in China over Morey's freedom of expression. In Congress, for example, the NBA received a rare bipartisan backlash.
Representative Brendan Boyle (D-PA) summed up the nation's attitude about the NBA's comments on the Morey situation, tweeting "Stop putting the almighty [dollar emoji] before human rights, for once."
The NBA completely mishandled this situation, and that is why, at the time, I was among those disgusted by their actions. Today, however, I am not sure the situation is so black and white.
By looking at the way the NBA dealt with Morey's tweets from a different perspective, the picture becomes more complex.
Most sports fans understand that sports are a business. Sports teams and leagues make money from a variety of sources (tickets, merchandise, television packages, etc).
The vast majority of the time, though, we fans do not fully appreciate how much sports are like any other business. We have real, personal connections with teams, making us feel more closely tied to them than we would with almost any other brand.
We often forget that professional sports are a profit-driven industry, and we rarely consider how important it is for a league to maintain favorable public relations.
For years, I have been proud of the NBA for allowing its players and coaches to speak up on political and social justice issues, more so than any other major American sports league.
In the past few years, for example, players like LeBron James of the Los Angeles Lakers and coaches like Gregg Popovich of the San Antonio Spurs have been critical of President Trump.
In May 2019, Commissioner Silver supported these players' right to express their political opinions "like every other American," saying that he is proud of the NBA's "history of activism."
The NBA's support of its players' and coaches' freedom of expression is admirable. However, when thinking about sports from a business perspective, one can see that the league has financial motivations for acting this way.
Because the NBA's audience skews younger and more liberal than the population as a whole, the league faces fewer consequences for supporting its players' and coaches' freedom of expression than leagues with more conservative audiences such as the NFL.
In fact, supporting its players' freedom of expression on political and social justice issues likely bolsters the NBA's image with many fans.
That is not to say that the NBA's support for its players and coaches is disingenuous, just that the league does so in part because it is good for business. It is hard to say if the NBA would be so supportive of its players' and coaches' freedom of expression on political and social justice issues if it were not in its financial interest.
In the Daryl Morey situation, though, there are no theoreticals. The NBA has shown that it values its financial interest as much as player activism. The league deserves to be condemned for being complicit with China's infringement on democracy and political rights in Hong Kong.
However, solely condemning the NBA for its actions in the Daryl Morey situation ignores the fact that thousands of other American companies do business in China despite it being an authoritarian state.
Until we see those businesses begin to prioritize political and social justice over their own financial interests, the NBA will not change its ways.